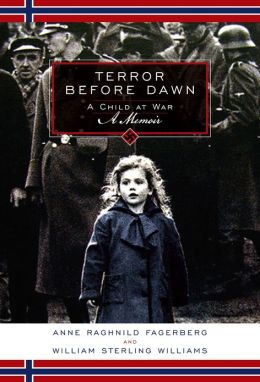 WW II as a backdrop, Terror Before Dawn is a moving memoir written through the eyes of a young girl.
Only seven when the Nazi's invaded Oslo, Anne Raghnild Fagerberg shares her intimate story of the horrors the war brought to the Norwegian people.
Written with a spirit and determination of a child of the resistance, the story recounts the day-to-day life of a brave girl and her family trying desperately to reclaim their freedom and once peaceful and privileged lives, during Germany's five year occupation of their country.
Her son, William Sterling Williams, brought the hand written manuscript to life in these pages and will leave the reader enthralled and wanting more.
---
Received for review.
I'm not a big fan of war novels. They're much too depressing. This was no exception.
While the writing was beautifully crafted the material was just unrelentingly sad. Yes, this is a true story and the actual events were horrifying, but I really don't want to read their retelling. Think Schindler's List as told by a child. If you're hoping for any redeeming happy scenes, there aren't any.
I really can't fault the book for its unfortunate tone and subject matter so this does get three stars instead of two, because it is technically a well written book. If you're in the market for an
extremely depressing and historically accurate portrayal of Nazi invasion in Europe from a child's point of view this is for you.
★★
★
☆☆
= Liked It