E.K. Prescott, author of the book 9 Squares, stopped by for a Q&A.


---
Why did you choose New Haven, CT as the setting for your book?
Actually, my husband and I put a map of the US in front of me, and I closed my eyes, lifted my arm high, and put a finger down at New Haven, CT. Then I started researching the place. The history was so intriguing; I couldn't make it up any better. So that is where I started: a map and historical research.
How long did it take you to research the historical information for the book?
That is hard to say, because I was teaching full-time while I researched the book. And the research is continual even after you have the outline and start writing. I am always digging further. So as a rule of thumb, I would say I researched for a year, and built the plot outline and characters around the research.


What surprised you the most during your research?

The unbelievable truths I found as I delved into the 1920s in the US and England. I found so many connections that we hadn't been taught in any history courses ... it was eye-opening.
What is the most important thing you want readers to take away from the book?
I asked several people to read an advanced copy and give me their thoughts. Not one came away with the same thing. As an English teacher, I know that is a mark of good literature, so obviously I was pleasantly surprised. There are many themes and subplots in the book, so what each person takes away is what is important, and I love to hear their thoughts and opinions!


Why did you decide to write a series?

One of the things about writing is to write what you enjoy, and I enjoy reading mystery series. I read them constantly. I love getting to know characters and seeing them move from book to book. I am always sad when the series comes to an end.


What was the most difficult part in writing it?

Bringing together the themes, subplots, characters, outline, and the history so it makes for a good story. I love the challenge! Now I have the base of the series and am moving forward to write the second book.
Who do you think would most enjoy reading this book?
Anyone who loves history, fiction, mysteries, and series books.


How did you develop the characters of Maize and Richard?

I knew I wanted a male detective from Scotland Yard ... thus I created Professor Detective Lord Richard Wikki. His many names make him who he is. I like to play around with names until they sound good to me, like my new Irish rogue character in book two, Tommy Mulhanney ... the name sounds delicious!

Maize (a common name in the 20s) is a Golden Era girl and wants a career, to vote, go to college, and marry later, unlike the elite Victorian women. In developing her ... I found that she became me.

I worked hard to develop the energy between these two characters in order to move them on through the series. I had fun with them. Read it and see for yourself!
How many books will be in the series? When will the next book in the series be available?
At this point, there are six books planned in The Ivy League Chronicles series. But if my fans want more, there is always a possibility.


In 9 Squares, Maize has a reading done by a psychic. Have you ever had a reading and were you pleased with the experience?

In the 1920s, metaphysics was very popular - especially among the elite. Anybody that was anybody had a psychic at their events, even at baby showers. Since this series is historical fiction, it was only fitting to add this to the plot. In fact, during my book signings I am dressed in 1920s style clothing and have a psychic with me to help the history come alive! Anyone who buys a book receives a free five-minute reading.
---
About the book: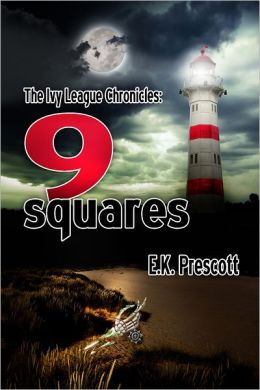 The year is 1923, and Richard Wikki, a former detective from Scotland Yard and now a professor at the prestigious Yale University in New Haven, CT, misses his days of crime solving.
Maize Judson has enrolled at Yale with hopes of becoming an investigative journalist.
When Maize and her friend find a skeleton buried in the sand at the beach with a mysterious amulet wrapped around its fingers, she and Richard set out to solve a murder.
But Richard soon finds himself following well-planted illusionary clues, and as he continues to investigate, a series of events shake the depths of his philosophical, religious and spiritual beliefs, as well as his perspective on life…forever.
---
About the author:
E.K. Prescott, Ph.D., has been an educator for almost 30 years, and has taught at the college level for the past 15 years. She spent many years as a high school English teacher, middle school principal, and national educational consultant. Among her many accomplishments, she has been awarded research grants, named director of a research institute, and her work was published by the S-STEP group of the American Educators Research Association. She was also asked to present her research in London, England at a S-Step conference.
Prescott earned her bachelor's degree at the University of Missouri and her master's degree at Cardinal Stritch University in Milwaukee, WI. She earned her doctorate at the University of Wisconsin-Madison, where she was awarded a three-year, full-time Fellowship.
She is currently an online Associate Faculty member, mentor and residency instructor for the University of Phoenix-School of Advanced Studies, as well as a part-time professor for other online doctoral programs.
E.K. Prescott lives in a log cabin nestled in the mountains of northern Arizona with her husband, four horses, and two black labs.
---