Ted Kerasote, author of the book Pukka's Promise: The Quest for Longer-Lived Dogs, stopped by to share with us a piece he wrote.


---
Key Elements for Healthy Dogs
by Ted Kerasote,
Author of Pukka's Promise: The Quest for Longer-Lived Dogs
In the months following the publication of Merle's Door, I received hundreds of emails from readers who had lost beloved dogs and closed their letters with a variation on this theme: "Why must our dogs die so young?"


Naturally, when most of us say this, we're not expecting an answer. We're expressing a rhetorical complaint: "Why do our best friends in the animal kingdom live so much such shorter lives than we do, only about an eighth of the normal life expectancy of a person in the developed world?"
However, I also received another question from many readers, which was more particular in its nature and much more heartrending: "Why did my dog have to die of cancer at three years old . . . at four . . . at six?" "Why," as one person wrote, "have four of my five Golden Retrievers died of cancer?"


What are the key elements of having a long-lived, healthy dog? Here are some pointers.
One of the best sources of information on keeping dogs healthy is Dr. Karen Becker's archives of
Pet Health Articles.
Contaminants
Don't expose your dog to environmental pollutants, particularly the herbicides and pesticides that are applied to lawns and golf courses.


Nutrition

Rotate your dog's food on a weekly or monthly basis. Would you be healthy if you ate the same thing your entire life? Reduce the carbohydrates your dog eats (corn, oats, soy, barley, rice) and replace it with high-quality protein.


Vaccinations

Once your dog has gotten its course of vaccinations and boosters, eliminate yearly vaccinations except those required by law (rabies) and those that are recommended by your veterinarian for your area. If your veterinarian says that a full round of yearly boosters is a must (e.g., parvovirus, distemper, adenovirus, kennel cough, leptospirosis) get a second opinion.


Vaccinations 101
: Dr. Ron Schultz shares his vast expertise in vaccines with dog owners.
(HEALTH): An article from: Whole Dog Journal
Genetics
If you're looking for a new dog and are getting one from a breeder take a close look at the dog's family tree, finding out how long its ancestors lived and what they died of. Case in point: 61.4 percent of Golden Retrievers in the United States die of cancer (
http://www.grca.org/pdf/health/healthsurvey.pdf
, p. 142). Researching your pup's ancestry before you even lay eyes on it can save a great deal of heartache a few years down the road. Take
Dr. Karen Becker's 18-Point Assessment
of a breeder and his or her facility before committing to a pup.
Spaying and Neutering

There is a growing body of scientific evidence that points to the harmful effects of spaying and neutering: shortened life span, increased risk of certain cancers, and increased incidence of ACL injuries. Depending on your situation, you may wish to delay the spaying or neutering of your dog until it is 14 months old or not sterilize it at all. If you're worried about not being able to control your dog when it becomes sexually mature, consider a vasectomy or tubal ligation, which will prevent your dog from becoming a parent, but retain the beneficial effects of the dog's sex hormones.


Prevention

Run your hands over your dog every day. The instant you feel a lump take your dog to your vet and get the lump aspirated and an analysis made of its contents. If your veterinarians says, "Let's watch it," find a new vet. Tens of thousands of dogs needlessly die of cancer each year because their humans "watched" a lump that could have been easily removed before the cancer metastasized.


© 2013 Ted Kerasote, author of Pukka's Promise: The Quest for Longer-Lived Dogs
---
About the book: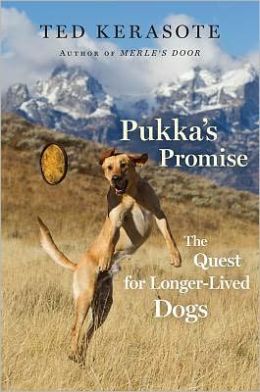 From the best-selling author who offers "the most utterly compelling translation of dog to human I have ever seen" (Jeffrey Masson), a joyful chronicle of a dog that is also a groundbreaking answer to the question: How can we give our dogs the happiest, healthiest lives?
When Ted Kerasote was ready for a new dog after losing his beloved Merle — who died too soon, as all our dogs do — he knew that he would want to give his puppy Pukka the longest life possible. But how to do that? So much has changed in the way we feed, vaccinate, train, and live with our dogs from even a decade ago.
In an adventure that echoes The Omnivore's Dilemma with a canine spin, Kerasote tackles all those subjects, questioning our conventional wisdom and emerging with vital new information that will surprise even the most knowledgeable dog lovers. Can a purebred be as healthy as a mixed-breed? How many vaccines are too many? Should we rethink spaying and neutering? Is raw food really healthier than kibble, and should your dog be chewing more bones? Traveling the world and interviewing breeders, veterinarians, and leaders of the animal-welfare movement, Kerasote pulls together the latest research to help us rethink the everyday choices we make for our companions. And as he did in Merle's Door, Kerasote interweaves fascinating science with the charming stories of raising Pukka among his dog friends in their small Wyoming village.
Funny, revelatory, and full of the delights of falling in love with a dog, Pukka's Promise will help redefine the potential of our animal partners.
---
About the author: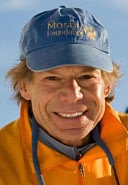 Ted Kerasote
, author of
Pukka's Promise: The Quest for Longer-Lived Dogs,
is the author of several books, including the national bestseller
Merle's Door: Lessons from a Freethinking Dog
and
Out There
, which won the National Outdoor Book Award. His essays and photographs have appeared in
Audubon, Outside
, and the
New York Times
, among others. He lives in Jackson Hole, Wyoming.
---