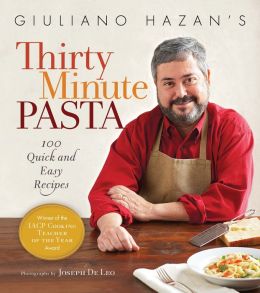 Home cooks are once again looking to prepare well-balanced meals that include everyone's favorite food—pasta. Few of us, though, have the leisure to create a classic Bolognese meat sauce from scratch. For those who are as pressed for time as they are starved for a toothsome bowl of beautifully sauced pasta, Giuliano Hazan has created 100 scrumptious pasta dishes that can be put together in half an hour or less. Hazan's repertoire—hearty pasta soups, fresh-from-the-greenmarket vegetarian dishes, and meat and seafood sauces that take their cue from the classics of Italian cuisine—will let you bring healthful, hunger-satisfying pasta back to your family's weeknight supper table. Included are recipes for last-minute dishes, as well as useful advice on stocking your pasta pantry, choosing cooking equipment, and figuring out which pasta shape goes with which kind of sauce.
---
E-galley received for review.
I adore pasta. Seriously, it is one of my favorite things. So, needless to say, I was thrilled to receive this for review!
There are seriously one hundred different pasta recipes covering everything from soup to more traditional pasta dishes. There is even an entire section devoted to vegetarian dishes. If you can't find something you like in this cookbook then you are not a pasta connoisseur.
I found several recipes that I am looking forward to trying:
Neapolitan Maccheroni Soup
Fusili with a Rainbow-Colored Sauce (this will be perfect for using up my garden bounty of zucchini, tomatoes, and eggplant!)
Penne with Mushrooms and Zucchini
Fusili with Yellow Squash and Grape Tomatoes (another garden bounty recipe!)
I especially appreciated that most recipes do not require any freaky, hard to find ingredients. 99.9% should be available at your local grocery store. A couple recipes do call for saffron which may be a smidge more difficult to find, depending on where you live. The photos, while not provided for each recipe, are beautiful and beneficial in selecting recipes to try.
This is a wonderful collection of recipes and truly a must own for any pasta lover. It would also make a lovely gift. I highly recommend it!