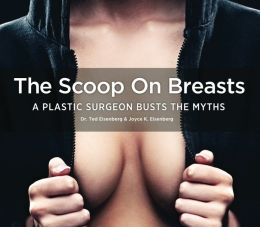 Whether you want to augment them, lift them, reduce them, or embrace them just the way they are, you'll get the inside scoop about breasts and cosmetic breast surgery in this educational and entertaining book. Dr. Ted Eisenberg, a plastic surgeon who holds the Guinness Record for most breast augmentations done in a lifetime, candidly answers hundreds of actual patient questions like: Am I too old for breast augmentation? Will my implants boil in a hot tub? Do I need to replace them every 10 years?

Joyce K. Eisenberg offers up titillating titbits and extra padding about breast goddesses, go-topless days, and Great Britain, whose women have the largest breasts in Europe. Filled with close to 200 photographs and illustrations, The Scoop on Breasts: A Plastic Surgeon Busts the Myths is an amusing and revealing read. By book's end, you'll consider the authors your BBFs: Bosom Buddies Forever.


---
E-galley received for review.
I'm sure most women have contemplated breast surgery of one kind or another, be it implants, reductions, or lifts. If you've ever had any questions about the options, surgery, or aftermath this is the book for you.
This comprehensive guide covers absolutely every question you could possibly have about any type of breast surgery. It covers everything from the decision to have implants, sizing, costs, the procedure itself, and beyond.
I really cannot recommend this enough to someone looking into breast augmentation. The author's fresh, friendly style will put you at ease and provide you with all the relevant information.
This is the go-to book for everything breast surgery related.
★★★★
☆
= Really Liked It