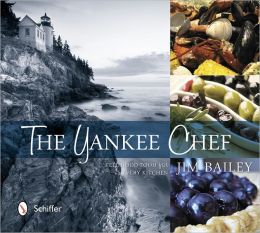 The heritage of New England cookery unfolds in this charming collection of more than 550 traditional recipes tweaked for today's palate.

Compiled with insight and flavors from three generations of Yankee chefs, this cookbook for home cooks and professional chefs alike covers baked goods, beverages, seafood, desserts, and more. Create a range of comfort foods in typical New England style, including easy-to-follow recipes for classics like chowders, steamers, cornbread, and mincemeat pie.

This informative, engaging, and definitive guide to the feel-good food of the Northeast will offer a lifetime of classic meals for the family and is a great addition to any kitchen library.


---
E-galley received for review.
As a native New Englander I was immediately drawn to this and it did not disappoint!
This comprehensive collection covered everything from breakfast to dessert. There were muffins, stews, pies, pastas - simply everything you could possibly want to cook or bake was covered.
The recipes were clear, concise, and easy to follow. 99.9% also did not require any bizarre ingredients that you can't find at your local grocery store.
There were numerous recipes that I want to try, some of which are:
Lobster Fried Rice
Old Fashioned Dark Gingerbread
Old Fashioned Honey Cake
Stovetop Coconut Rice Pudding
Maple Custard Pie
And really, any and all of the other recipes that listed maple syrup as an ingredient!
This isn't just for us "Yankees" and would make a lovely addition to any cookbook collection. It would also make an ideal and thoughtful gift. I highly recommend this!
★★★★
☆
= Really Liked It