Linda Lauren, author of the book Hostage in Time, stopped by to share with us an excerpt from her book.


---

A gust of wind hurled her off balance as it propelled her up the flight of stairs to the third floor. At the top she paused to catch her breath before looking around. Lifting the camera back up, she pressed her eye to the viewfinder and closely focused in on the bronze sign on the first door to her left.

Jonathan Brisbane - Private!

So, this was where the real action in Serenity had taken place, she thought. This very room was probably where Jonathan Brisbane and Thomas Edison had formed their alliance to make history together. She hesitated only a moment, her hand on the knob. No one seemed to be on the floor. It couldn't hurt to just take a peek. The point of debate was swift. With a shrug, she turned the knob and stepped inside.

This room was an office. The walls were paneled in oak and a large desk was the nerve center of the room. Behind it was a credenza, and to the left-a wall of rich leather-bound books. As Amanda skimmed over them quickly--literally volumes of them all of a legal or electrical nature--a chill gripped her. She felt like she was invading Jonathan Brisbane's privacy, despite the many years he'd been dead.

Walking in further, she realized that the fire in the fireplace opposite the wall of books had only recently died out, its embers still faintly glowing. Perhaps someone had recently been working on the restoration of room. The thought and prospect of possibly getting caught make her shiver and, as she zeroed in on a last look through the viewfinder, her eyes spied a book that lay open on the credenza. Her curiosity immediately aroused, Amanda focused the camera lens in a tight close-up. Beside the book was a daguerreotype in a silver frame of two men shaking hands. She recognized one man as Thomas Edison. She assumed the other man was Jonathan Brisbane. He certainly was handsome. His flashing smile seemed to curl around the comers of his mouth as if he had a great secret he could not share.

Reluctantly pulling herself away from the photograph, Amanda aimed the camera down on the open page of the journal. Bold, dark script met her eyes. The society was obviously doing a wonderful job in this wing. The ink on the page actually looked newly dried, and the page was white in contrast to the yellow, aging documents in other parts of the house. She eagerly read the first paragraph.

"1884, April. There is much excitement since my return from Menlo Park.

Edison never ceases to amaze me! The magic of his electric lights at Menlo Park raised my spirits! But what can I do to stop the thievery around him? Alas, the Edison Electric Light Company is still plagued by patent thieves. I must keep a keen eye on the enemy camps.... "

"Who are you, Sir? And what are you doing in this room?" demanded an angry voice from behind her.

Sir? Embarrassed at having been caught, Amanda flinched and turned slowly, the video camera still on her shoulder, its red light blinking rapidly into the handsome face of… Jonathan Brisbane? Realizing the man must be a docent of close resemblance Amanda still could not stop the trembling that made its way throughout her body. To her surprise, his hands shot up into the air in surrender!

As she adjusted the camera away from her shoulder, her fedora fell off her head and her long curls fell loosely around her. They stared at each other for an agonizingly long moment.

"A woman? They sent a woman to spy on me?" His face turned a deep crimson and the muscles in his cheek worked into an angry twitch. "How dare they!"

"Excuse me?" Amanda asked, having found her voice. "Don't you think you're taking this reenactment a bit too far?"

"Stop babbling and tell me who sent you! Was it Swan? Or perhaps Verdine?"

Hands still raised, he slowly moved around the desk and closer to Amanda.

Feeling immediately threatened, Amanda raised the camcorder onto her shoulder. "Come one step closer and I'll shoot!" she shouted. Why on earth had she said that? She wanted to laugh at the ludicrousness of the situation, but became wary as he froze in front of her, hands still in the air.
"It appears, Madam, that you have me at a considerable disadvantage. Though I must say I've never seen such a weapon before."

Weapon? Amanda kept filming, not sure what to make of this man. Another long silence allowed her time to reflect on his tall, athletic build. She slowly panned down the length of his body to his strong muscular legs, moving up to his broad chest that pulled at the material of his white shirt, before moving up to his face. Zooming in for a close-up, she stared at the thick, beveled lips, the neatly combed black hair that reached past his ears and covered his neck; over to the flashing green eyes. God, he was handsome ... and angry! She let out a sigh and as she started to move the camera away from the agony of her sight, she slipped on her fedora. He lunged forward, catching her and the camera in one quick motion.

"So, now the tables are turned, Madam!" He held the "weapon" out of her reach with one hand, the other holding both of hers together around her back at the waist.

Jonathan Brisbane inhaled her lovely scent as she struggled in indignation. Such a slip of a girl, he thought. When she had first turned around and he had met the softness of those dark eyes, he was disappointed to think a man could be behind them. His gaze lingered on her soft brown hair as a curl brushed against his cheek. Pressing her thighs against him in those outrageously tight trousers proved to be too much. Reluctantly but forcefully, he pushed her at arms length. She may be a woman, but she was still a spy!

---
About the book: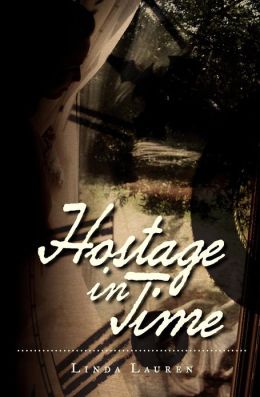 For photographer Amanda Lloyd, being hired to film the historic Serenity house, home of Thomas Edison's patent attorney Jonathan Brisbane, is a straightforward gig. Filming during re-enactment day, Amanda begins to explore the home, including the prohibited third floor. Suddenly and without warning, Amanda finds herself transported back in time to 1884 where, because she is brandishing her camcorder that he mistakes for a weapon, she is accused by Brisbane himself of being a spy in search of Edison's secrets. Immediately placed under house arrest, she finds herself a hostage to history. She quickly becomes accustomed to the lifestyle and routine of the time and begins to grow closer to Jonathan. The quiet of their growing love is shattered when a scorned traitor sets them up, forcing the pair to work together to unravel the secrecy of missing documents before Amanda is arrested for treason and history is changed forever. With the help of a spiritualist medium, they are able to find and understand their destiny—but is it already too late?
---
About the author:
Linda Lauren is a fourth generation psychic medium, author, color and energy profiler, and reiki practitioner. Linda is also known as The Travel Psychic™ and an energy artist. An avid researcher and champion of historic preservation, Linda uses her intuition in everything that she does. Linda owns and operates Linda Lauren's Embracing The Universe in Mountainside, NJ and can be found on the web at
www.LindaLauren.com
.
---