Joe Keller, author of the book Single Effort, stopped by to share with us an excerpt from his book.


---
Single Effort
An Excerpt from Chapter 4: Creating a Female-Friendly Home


Once your living space is set up and functional, the dust has settled on your singleness, and your kids (if any) have become acclimated to their life with the new, single you, the idea of dating will probably enter into your thoughts.

If you're considering dating, chances are good that at some point you're going to bring dates back to your home (if you're looking for dating advice, chapter 11 holds many tips and suggestions). Maybe you'll cook a meal for your date at home, have her over to watch a movie, or simply stop by for a cocktail on the way to an evening out together.

Whatever the reason, odds are good that newfound female acquaintances will be making their way into your home sooner or later. You'll be ready to meet them, but will your home? To be sure it is, take time, before you start dating, to make your living space female friendly. Steer clear of having your home look or feel like a "man cave" or bachelor pad. Instead, give a nod to the female element and ensure that your home speaks, at least in part, to your softer side.

The first step in creating a female-friendly home is to make sure your home looks and smells great. A clean home is a must when you start dating and meeting new women. If you decide to bring your date back to your place, she is going to notice if your living space isn't tidy and up to her standards. As the saying goes, "Housework is something you do that nobody notices until you don't do it." Make sure you set aside time every week to keep your home looking good. If the burden of cleaning becomes too much or you'd rather spend your time doing other things, hiring out the work may be something to consider.

When I first set out as a single guy, hiring a housekeeper was a foreign concept. When I was married, my ex had performed most of the housekeeping duties, including the laundry. The magnitude of this particular change hit home after just a few weeks of living single: keeping the apartment clean was
turning into a real time sink – it was taking me over five hours every week just to keep things tidy and clean.

Because I had a parenting and work schedule that didn't afford me the luxury of seeing my children every day, I wanted to make sure the time I did have with my kids was spent focused on them. In addition, when I wasn't working and didn't have my kids with me, I wanted to spend my time pursuing new interests like cooking, writing, and meeting new and interesting people.

In short, I wanted to save as much time as possible for my kids and myself and jettison anything that took away from those two focal points. However, I had to reconcile this with the fact that I'd be tasked with doing more things for myself, not less, in my newly single life. This included making home-cooked
meals, house cleaning, and doing the laundry.

I enjoyed the thought of cooking and wanted to teach myself (and my kids) how to create healthy home-cooked meals – so I decided that this was something I would "keep on my plate."

Contrary to cooking, however, cleaning and doing laundry were not favorite activities – not even in the top 30 – but they still had to get done. After some consideration, I decided that doing the laundry and cleaning the apartment were two things I could delegate to someone else. For the first time in my life,
I decided to bring a maid into my home.
---
About the book: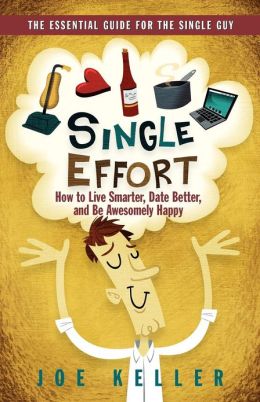 Whether you're single by choice or by chance, it's wildly different than living with a partner. Most books on the subject read like cheerleading for cave-dwellers or sex guides for the hopelessly hapless. Why can't someone just tell it like it is? Joe Keller does just that. From food to fun, and finance to romance, Single Effort delivers clear, real-world advice to help you live a dynamic, successful life as a single guy.
Heartfelt, funny, and always practical, Single Effort is a must-read for single guys everywhere. It's also perfect for anyone (male or female, single or not) in search of unique dating and lifestyle ideas or a more fulfilling life. Destined to become a classic, this indispensable guide will change how you think about being single and help you find the life and love you seek.
---
About the author:
Joe Keller is a father of two, an entrepreneur at heart, and a lifelong learner. His personal quest is to live a fulfilling, awesomely happy life and to help others do the same.
Single
Effort
grew out of Joe's learning curve following a painful divorce. Through trial and a healthy dose of error, Joe learned to approach single life – and life in general – with smarts and heart, leading to newfound confidence and exciting new adventures.
Equally at home cooking a meal for his kids, crooning karaoke on a night on the town, deciphering the world of dating for his readers, or traveling the globe, Joe believes that it's what's inside that counts – that happiness comes from following your passion, loving and being loved, and ultimately, finding peace within yourself.
Joe shares his passion for helping others through volunteer work in the U.S. and abroad, via his writing, and through public speaking. Joe makes his home in Auburn Hills, Michigan.
Learn more about Joe at
www.SingleEffort.com
.
---