Kathleen Marden and Denise Stoner, authors of the book The Alien Abduction Files, stopped by to share with us a piece they wrote.


---
---
About the book: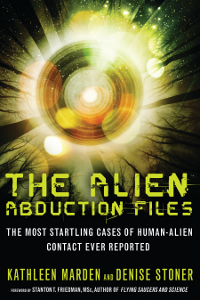 Why would two women separated by thousands of miles share a common thread involving alien abduction? Both cases are supported by multiple witnesses and have substantial evidence. Both women experienced missing time while driving with a companion, and were later taken from their homes. Both have been unwilling participants in ongoing experimental procedures that appear to follow family genetic lines. Both witnesses have given detailed descriptions of the crafts' interiors and technology, medical procedures, messages from the visitors, and the types of ETs they have encountered, including their society's hierarchical structure. Even more startling, both have independently described finding themselves on identical huge craft, within the same timeframe.
The Alien Abduction Files finally reveals:
The little-known details of alien experimental procedures

The theoretical science that can explain alien technology

The messages conveyed by the ETs to abduction experiencers

The vulnerabilities and benefits of living life as an abduction experiencer

The evidence that these phenomena are real
---
About the authors:
Kathleen Marden works full time as an author, alien abduction researcher, and lecturer. She has more than 22 years' experience in the field and is the niece of Betty and Barney Hill, the first abductees whose story stirred world-wide interest. She has lectured at conferences across the United States and appeared on numerous TV specials as an on-air expert. She is coauthor of Captured! The Betty and Barney Hill UFO Experience. She lives near Orlando, Florida, and can be found online at
www.kathleen-marden.com
.
Denise Stoner has spent more than 20 years researching the alien abduction phenomenon, documenting the physical and psychological impact of abduction upon experiencers, and working one-on-one with abductees. For many years she has hosted private meetings for groups of abductees. She has lectured on the alien abduction phenomenon, appeared on numerous radio shows, and will appear on PBS TV this year. She lives near Orlando, Florida, and can be found online at
www.denisemstoner.com
.
---