Robert P. Chappell Jr., author of the book Child Identity Theft: What Every Parent Needs to Know, stopped by to share with us a piece he wrote.


---
Parents Need to Protect Their Children from Identity Theft

Have you heard of the crime "child identity theft?" Most parents have not yet children are currently 35 times more likely to be victimized by the crime than are adults. In fact parents may have more than one child affected by the crime. Javelin Strategy and Research recently released a study which showed that one in every forty households in America have at least one or more children living in the home who has been victimized by identity thieves.

Child Identity theft occurs when a criminal steals child's name, date of birth, or Social Security number. This information can be used to request credit cards, public assistance, employment, fraudulent tax refunds, and medical care.

Children have become targets because criminals can steal a child's identity and successfully use the information for years without discovery. This crime has the potential to touch all children regardless of their family income or where they live in America.

Parents can help prevent this crime by educating themselves on child identity theft and then having discussions with their children. Education is the key to prevention!

Obtain a free credit report on your child annually. Contact one of the three major credit reporting agencies: TransUnion, Equifax, or Experian. If you discover that your child has a credit report, you need to contact the same credit reporting agency and ask to have a free 90 days credit alert on your child's credit file. Next, contact the police. Law enforcement will make a report of the theft. A visit to www.ftc.gov reporting the theft will help the government capture true statistics on the crime.

Child identity theft is emotionally taxing for both the victim and the victim's family. It leaves children with the feeling of insecurity. The affects are worse for the child when the person committing the crime is a parent, relative, or someone known by the family.

You can find out more about this crime by reading Child Identity Theft: What Every Parent Needs to Know (Rowman and Littlefield) by Robert P. Chappell, Jr. This book is written in an easy to read question and answer format for busy families. It is but one of two books in America on the topic and the only book in America written by a law enforcement officer on child identity theft.
---
About the book: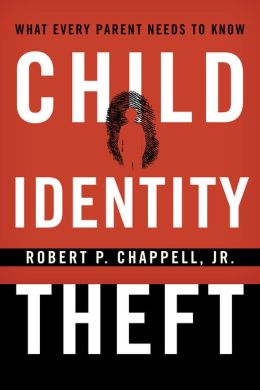 Child identity theft is the fastest growing type of identity theft, a crime that affects some 10 million people annually. Each year more than 500,000 children are affected by identity theft – half of them under age six. Countless other cases go unreported because the thief is a relative or parent of the victim. This devastating crime can wreak havoc on a child's future opportunities; it can be difficult to prove, and even harder to undo the damage that has been done. Child Identity Theft speaks to parents everywhere, the majority of whom have no idea that their children's identities have become such prime targets for thieves and criminals.
Here, a veteran law enforcement professional and expert in child identity theft offers parents, educators, law enforcement officials, and others who care for or work with children an inside look at the ways in which children are vulnerable to identity thieves. Chappell presents the vital information in a question and answer format, offering not just information about how child identity theft happens, but also how to prevent it from happening, and what to do if it does.
Among other things, Child Identity Theft explains:
·how a loophole in the national credit reporting system allows criminals to target innocent children for their creditworthiness;
·the variety of forms that child identity theft can take;
·the hidden techniques that thieves use to gain children's identities and personal information;
·which children are at a higher risk for identity theft; and
·how an increasing number of child identity thefts are perpetrated by parents and relatives.
This book reveals the reality of child identity theft and the steps we all should take to protect our children and ourselves. How many victimized children are out there out there waiting to be discovered? Has your child been victimized? One hopes not, but if so, this book will give you the tools to find out and get help.
---
About the author:
Robert P. Chappell, Jr., is a 27 year veteran law enforcement officer. In 1986 he was honored with the Virginia Chief's of Police award for Valor in the Line of Duty. Chappell began his career with the Virginia State Police in 1987 where he has worked for the past 25 years. He has served as a trooper, Narcotics Special Agent, uniformed Sergeant, First Sergeant, Assistant Special Agent-in-Charge with the Bureau of Criminal Investigation, and currently as a Lieutenant with the Bureau of Field Operations. He is considered to be an expert in the field of Child Identity Theft. Chappell is also a veteran of the Armed Forces having served 25 years with the United States Army Reserve, during which time he was awarded the Bronze Star, Army Combat Action Badge, 101st Airborne Air Assault combat patch, 11th Armored Cavalry combat patch, and the 3rd Armored Cavalry Regiment Order of the Combat Spur. He retired in 2008 as a Lieutenant Colonel.
---