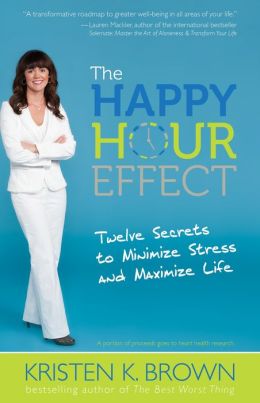 The Happy Hour Effect: Twelve Secrets to Minimize Stress and Maximize Life, by bestselling and award-winning author Kristen K. Brown, provides easy, fun, and powerful solutions to minimize your stress and maximize your life. Kristen's voice is inspiring, motivating, witty, funny, and down to earth, and her book provides specific and actionable steps to stress less now. It isn't hard. It isn't confusing. It's a simple, straightforward, fun approach to stress relief. Each chapter includes inspiring quotes, the timing to implement each secret, the level of effort it will take, the expected results, and QR codes and links to supporting materials online that will make the respective chapter come to life. Also included are sidebars with expert interviews, anecdotes, statistics, and other visual content to reinforce the written words on each page. The QR codes and links connect to worksheets, videos, meditations, how-to tips, and other resources that will help you move forward on your stress management journey. The Happy Hour Effect is a comprehensive guide to help you live a healthier, happier, and less stressed life--quickly and easily.


---
Received for review.
With a title like this I was immediately intrigued and could not pass up an opportunity to review this. Unfortunately, I was sorely disappointed when the book did not deliver.
The author does have a friendly, accessible style, but the book is just packed with way too many bullet points, sidebars, charts, and graphs which make reading a chore and, ironically, stressful!
The section I had the most problem with and which resulted in my snapping the book closed never to open it again, was the portion on pets as stress relievers. No, seriously. The author advocates getting a pet as a stress reliever. Not for the pet to become a beloved member of the family, but as some sort of clinical tool, like a new hairdryer. This is what brought the book from 3 stars to 2 stars. The author is simply clueless as to how true animal lovers feel about their furry babies and her attitude is simply offensive. She has obviously never had a pet that she truly loved and, frankly, I question her ability to love anything but herself if she takes the "pet as an accessory" attitude.
If you skip the animal chapter this may be worth a read, but if you are at all an animal lover don't touch this with a ten foot pole as it will just ruin your day. I cannot recommend this at all.
★
★
☆☆
☆
= Just Okay