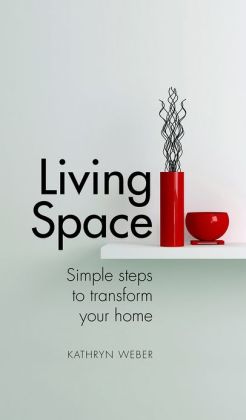 Our homes should not only look good but make us feel good just being there. In her brightly written "Living Space: Simple Steps to Transform Your Home," author Kathryn Weber offers ways to reinvigorate and rejuvenate our lives with innovative home ideas that are budget-friendly and easy to create. Maybe it's something as simple as putting new pulls on kitchen cabinets, rearranging armchairs or painting a powder-room ceiling in an unusual color. Or it could be trying something new, such as banquette seating in the dining room, a red tablecloth and cast-iron cookware. The book is filled with simple design and décor recommendations for all major rooms of the house, as well as a section on special spaces, including media rooms, porches, hallways, home gyms or even a wine cellar and home massage room. Ever hear of a "keeping room"? You will now. Living Space is an inviting guide to transform your home into the house you'll love.


---
E-galley received for review.
I was initially intrigued by the book's premise but it simply did not deliver. At all.
The book was clearly written for the upper middle class, which is frankly silly since they'd just hire a designer anyway. All the "ideas" for "freshening up" your home are on the expensive side, and are time consuming and/or require a professional.
All the photos used in the book are from McMansions with giant kitchens and cavernous bathrooms so if you had any doubt as to the target audience it is quite gone by about page three.
While some of the ideas are more realistic, the vast majority are not enough to keep this from being a complete waste of time.
So, unless you live in a McMansion, give this a pass.
★
☆
☆☆
☆
= Didn't Like It