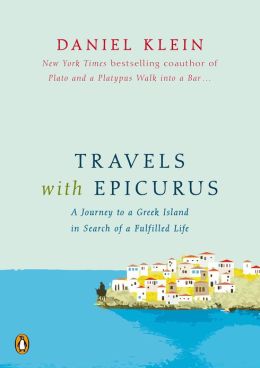 One of the bestselling authors of Plato and a Platypus travels to Greece with a suitcase full of philosophy books, seeking the best way to achieve a fulfilling old age Daniel Klein journeys to the Greek island Hydra to discover the secrets of aging happily. Drawing on the lives of his Greek friends, as well as philosophers ranging from Epicurus to Sartre, Klein learns to appreciate old age as a distinct and extraordinarily valuable stage of life. He uncovers simple pleasures that are uniquely available late in life, as well as headier pleasures that only a mature mind can fully appreciate. A travel book, a witty and accessible meditation, and an optimistic guide to living well, Travels with Epicurus is a delightful jaunt to the Aegean and through the terrain of old age led by a droll philosopher. A perfect gift book for the holidays, this little treasure is sure to please longtime fans of Plato and a Platypus Walk into a Bar and garner new ones, young and old.


---
Received for review.
The cuteness factor on this book was just so much that I simply had to read it! Unfortunately, the cuteness did not extend to the inside where the text was on the small side which seriously detracted from the reading enjoyment.
That said, the book was a lovely little read. The life-lesson stories were well written with a great flow and were pleasantly reminiscent of a Robert Fulghum book.
This would make for a solid personal read or a thoughtful gift. I certainly recommend it.
★★★★
☆
= Really Liked It