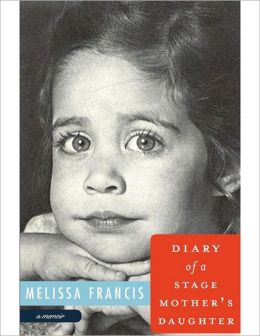 The Glass Castle meets The Battle Hymn of the Tiger Mother in this dazzlingly honest and provocative family memoir by former child actress and current Fox Business Network anchor Melissa Francis.

When Melissa Francis was eight years old, she won the role of lifetime: playing Cassandra Cooper Ingalls, the little girl who was adopted with her brother (played by young Jason Bateman) by the Ingalls family on the world's most famous primetime soap opera, Little House on the Prairie. Despite her age, she was already a veteran actress, living a charmed life, moving from one Hollywood set to the next. But behind the scenes, her success was fueled by the pride, pressure, and sometimes grinding cruelty of her stage mother, as fame and a mother's ambition pushed her older sister deeper into the shadows. Diary of a Stage Mother's Daughter is a fascinating account of life as a child star in the 1980's, and also a startling tale of a family under the care of a highly neurotic, dangerously competitive "tiger mother." But perhaps most importantly, now that Melissa has two sons of her own, it's a meditation on motherhood, and the value of pushing your children: how hard should you push a child to succeed, and at what point does your help turn into harm?


---
Received for review.
I'll be the first to admit it, I'm not one who enjoys the "poor little rich girl" memoirs so many actresses are putting out these days. Yeah, yeah, you're neurotic but you're rich and neurotic. Get back to me when you have a real problem. Thankfully this isn't quite the "life is so tough for rich little me" story that I was expecting and, frankly, dreading.
The author's mother was downright crazy and reminds me so much of the freaky mothers who were always at the dance classes of my youth, watching their daughters, recording the steps in a little notebook, and actually scheduling practice time for them so they could be perfect. It was more than a bit disturbing to see this trend taken to the extreme by the author's mother and recognize the toll it can take not only on the child but on the child's siblings.
If you're looking for a frank, engaging memoir this is it. You simply will not be disappointed, regardless of whether or not you are a
Little House on the Prairie
fan.
★★
★
☆☆
= Liked It