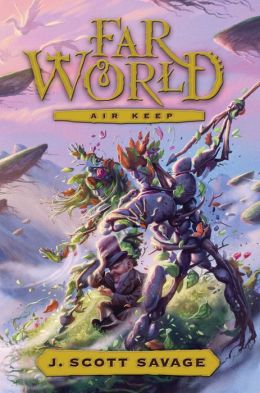 The adventure continues . . . It's been six months since Marcus and Kyja obtained the help of the land and water elementals, but before they can secure the help from the mysterious air elementals, the two friends must first be reunited. A task easier said than done.
While attempting to return to Farworld, Marcus finds himself in the Abyss of Time, facing four doors: the Is, the Was, the Will Be, and the Never Was. What he learns in that dangerous place has the potential to change his life—and Kyja's. But does he have the courage to tell her what he learned? And in Farworld, a terrible drought has seized the land, hinting that perhaps there is a traitor in the elementals' midst.
As Marcus and Kyja desperately search for the air elementals, they must first answer the question "Who can we trust?"
---
Received for review.
Although this is supposed to be the review for the third book in the Farworld series, I'm going to review all three books in one go so you won't have to read the same review three times!
This series strongly reminds me of James Dashner's 13th Reality series (which is a good thing). The magic and the characters are a combination of the 13th Reality, Harry Potter, and Narnia, which sounds odd, but works quite well.
The stories were quite interesting and drew you in right away with intriguing characters and situations. I won't give too much away about the stories, but the books form a nice story arc, yet are complete in themselves.
I highly recommend this intelligent, extremely well written series and am eagerly awaiting a fourth volume!