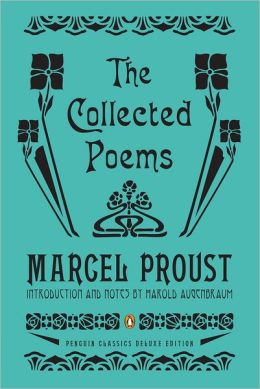 For the centennial of Swann's Way: the most complete volume of Proust's poetry ever assembled, in a gorgeous deluxe edition As a young man, Proust wrote both poetry and prose. Even after he embarked on his masterful In Search of Lost Time at the age of thirty-eight, he never stopped writing poetry. His verse is often playful, filled with affection and satire, and is peppered with witty barbs at friends and people in his social circle of aristocrats, writers, musicians, and courtesans.
Few of the poems collected here under the editorship of Harold Augenbraum, founder of the Proust Society of America, have ever been published in book form or translated into English until now. In this dual-language edition of new translations, Augenbraum has brought together nineteen renowned poets and poetry translators to bring Proust's exuberant verse back to life.
---
Received for review.


I'll admit that I'm not a huge poetry fan. I think English class in high school drove all possible fondness for poetry right out of me. However, this beautiful volume has restored a bit of it to me.
First, his particular edition is beautifully presented with those lovely almost torn edged pages and the text is a nice, readable size. The book itself is also of a good size to hold in the hand comfortably.
The text itself has both the original French poems (printed on the left hand pages) as well as the English translations (printed on the right hand pages) which makes for delightful reading. There are also numerous notes about the poems presented in the latter part of the book for additional background information.
If you're looking for a delightful volume of Proust's poems, this is the edition to get. You simply cannot go wrong with the presentation.