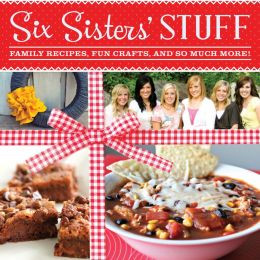 Cook, craft, and create with recipes, projects, and ideas from the enormously popular blog SixSistersStuff.com. Every recipe and project included in this book is quick, easy, and fun. More than 100 family-favorite recipes (including an entire section of slow-cooker recipes), use ingredients commonly found in your pantry. The crafts and home décor projects have easy-to-follow instructions with photographs and can be made with little or no money. "We don't profess to be amazing chefs," they claim. "We just know the importance of feeding our families a home-cooked meal and sitting down to eat it together. Our mom and dad taught us so many great values, and we are thankful that they instilled the importance of family time in our lives. Even the busiest of people can make the food and project ideas we share, which will give you even more time to spend with your family and loved ones.
---

Received for review.
This is an absolutely huge coffee table sized paperback volume! It is beautifully photographed and simply stuffed with yummy recipes and craft ideas!
Granted, some of the recipes do call for such horrors as "cream of" soups, cake mix, frosting from a can, and Velveeta (shudder), the remainder are easy to make, and contain ingredients that you would actually feed your family and are easily accessible at your local grocery store.
The craft and kids ideas are interesting and relatively easy to make as well.
I highly recommend this for someone who is looking for fast, easy meals, desserts, and crafts.