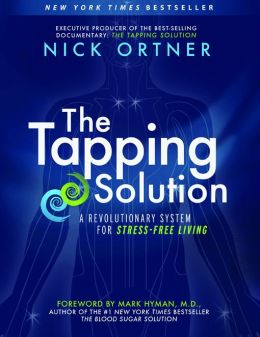 Do you have things in your life that you wish were different . . . but you don't know how to change?
The Tapping Solution offers a new technique to deal with seemingly impossible situations.
Tapping, also known as EFT, is a powerful tool for improving your life on multiple levels: mental, emotional, and physical. It has been proven to effectively address a range of issues—from anxiety, chronic pain, addiction, and fear, to weight control, financial abundance, stress relief, and so much more. It's also one of the easiest and fastest practices to learn. You can learn it in minutes, do it anywhere and on virtually any issue, and oftentimes experience immediate results.
How does it work? Based on the principles of both ancient acupressure and modern psychology, tapping concentrates on specific meridian endpoints while focusing on negative emotions or physical sensations. Combined with spoken word, tapping helps calm the nervous system to restore the balance of energy in the body and rewire the brain to respond in healthy ways.
In this book, you'll not only learn how to start tapping, you'll also get the history and cutting-edge science behind it. Featuring step-by-step instructions, exercises, and diagrams, The Tapping Solution shows you how to tap on a variety of issues and identify practical applications. Plus, throughout the book, you'll find unbelievable, real-life stories of healing, ranging from easing the pain of fibromyalgia to overcoming a fear of flying.
Find out how to release your fears and clear the limiting beliefs that hold you back from creating the life you want.
It's time for . . . The Tapping Solution!
---
E-galley received for review.
I'm actually quite familiar with the Ortners and their work so I was excited to check out Nick's new book and I wasn't disappointed.
I'll start off with the one negative aspect of the book - Nick sharing his own personal experiences. You'd think this would be productive in reading how tapping changed his life, but really it's more annoying. So tapping helped him supposedly go from being a million dollars in debt (business debt, mind you, not credit cards or such) to married to his sister's best friend, a millionaire, and the CEO of his own company - and now a best selling author. I mean, that's great and all that that was his experience, but I'm not sure that tapping was the catalyst for the changes he experienced, and it's really rather cruel to tell someone who is reading a self-help book that this can be their experience too if only they tap enough. If that were true everyone who taps would be a happy, healthy, millionaire. This is what kept it from being a five star book.
What I did like about the book was that it was the perfect introduction to the subject for newcomers to tapping. The book presented the concept and the practical application in a clear, concise, friendly manner and you can tell that Nick actually wrote the book himself (as opposed to hiring a ghost writer as so many celebrities do) as you can hear his voice and enthusiasm in the words.
The book also contains numerous sample tapping scripts which are invaluable to newbies as they get used to what to say while tapping. There are going to be online videos available for readers as well, but as I was reading the e-galley ahead of the release date the videos were not accessible to me so I can't comment on their content.
Those more experienced with tapping will also find the book beneficial in its discussion and clarification of various tapping aspects and the wide variety of topics covered.
This is the go-to book for tapping newbies and veterans alike. I highly, highly recommend it!