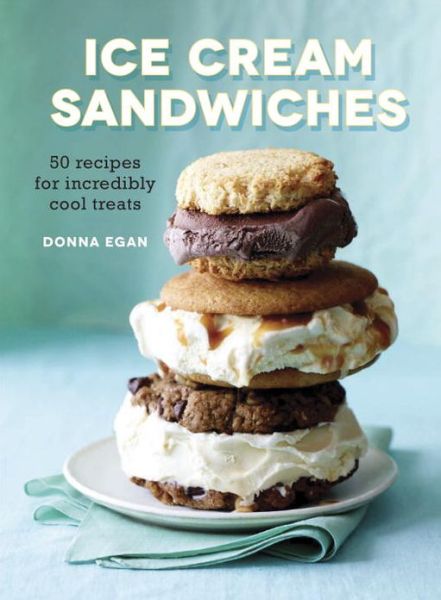 A sweet collection of 50 recipes for ice cream sandwiches from London's popular Buttercup Bake Shop.

Ice cream sandwiches are the perfect treat for both kids and adults, whether you prefer zesty lemon ice cream surrounded by soft ginger cookies or fudgey brownies encasing refreshing mint chocolate–chip ice cream, indulgently dipped in chocolate. Somehow, combining crunchy, buttery cookies with creamy, cold ice cream makes both elements better.

The tantalizing recipes in Ice Cream Sandwiches pair easy-to-make frozen fillings and simple cookies and other baked goods to create delightful treats ranging from classics to decadent combinations like snickerdoodles with vanilla ice cream, caramel, and butterscotch; pumpkin spice cookies with mascarpone ice cream; and rose meringues. With make-ahead instructions and fun decorating ideas for Valentine's Day, Halloween, Christmas, and other celebrations, this engaging and colorful cookbook has a sublime ice cream sandwich recipe for every occasion.


---
E-galley received for review.
Everyone loves an ice cream sandwich so I was excited to check out this volume. Unfortunately, these are Martha Stewart quality ice cream sandwiches that not only require you to bake cookies or brownies, but to cut them into stars or pigs or whatever. Then make your own ice cream. I mean, it's one thing to bake a batch of cookies and squish ice cream between them, but it's a whole other story to make cutout pigs and then make the ice cream to go in them. And the ice cream recipes didn't even make a full quart (which is what usually fits in an ice cream maker), so there's all that effort and no leftovers. AND, the ice creams didn't require an ice cream maker. "Great," you say. Not so much. Instead, they required making whipped cream and lots of delicate folding. Frankly, after you've spent two hours baking cutout stars and then making the ice cream to go in them I highly doubt you'd even want to eat the sandwiches anyway, you'd be so frustrated and exhausted.
So, while the concept is great and the pictures fun to look at, virtually no one will actually take the hours needed to make these fussy sandwiches unless it is for a party or holiday. Everyday life, not so much. If you are looking to make ice cream sandwiches for a special occasion, this is your book. Otherwise, give it a pass.
★
★
☆☆
☆
= Just Okay