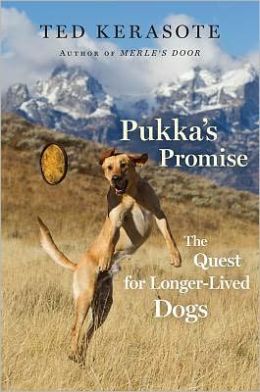 When Ted Kerasote was ready for a new dog after losing his beloved Merle — who died too soon, as all our dogs do — he knew that he would want to give his puppy Pukka the longest life possible. But how to do that? So much has changed in the way we feed, vaccinate, train, and live with our dogs from even a decade ago.

In an adventure that echoes The Omnivore's Dilemma with a canine spin, Kerasote tackles all those subjects, questioning our conventional wisdom and emerging with vital new information that will surprise even the most knowledgeable dog lovers. Can a purebred be as healthy as a mixed-breed? How many vaccines are too many? Should we rethink spaying and neutering? Is raw food really healthier than kibble, and should your dog be chewing more bones? Traveling the world and interviewing breeders, veterinarians, and leaders of the animal-welfare movement, Kerasote pulls together the latest research to help us rethink the everyday choices we make for our companions. And as he did in Merle's Door, Kerasote interweaves fascinating science with the charming stories of raising Pukka among his dog friends in their small Wyoming village.

Funny, revelatory, and full of the delights of falling in love with a dog, Pukka's Promise will help redefine the potential of our animal partners.


---
Received for review.
Despite having cats instead of dogs I found this book absolutely fascinating! Most of the discussions about vaccinations, food, etc. are applicable to cats as well so even if you're a cat owner as well you will certainly benefit from this book.
I have to admit that I never did read the author's first book. I'm not into depressing animal stories. I'm just not. However, I was intrigued when offered this book. The information on what to feed our pets and how or if to vaccinate them has become such a tangle that it's simply overwhelming. The author untangles this web for the reader and offers a clear, reasonable discussion of the options.
I found the discussion of pet food especially fascinating. The whole raw food thing isn't happening for either me or my furry babies. Seriously, if they saw raw chicken they'd just stare at me like "What am I supposed to do with that?". Of course, if you're starting an animal out with a raw food diet as a kitten or puppy, as the author did with Pukka, that is an entire different thing. The discussion and evaluation of the various grain-free foods was also, frankly, fascinating. After reading that section my babies are going on a completely grain-free diet. Yes, they'll still have their dry food, but that's what they're used to. It's like an organic apple versus a pesticide laden one from abroad. Progress, not perfection.
In any case, while this is one fat book the reading just sails along as you become wrapped up in the author and Pukka's adventures. This truly is
The Omnivore's Dilemma
for dogs. Those who would benefit most from this are the ones who genuinely love their animals and want the best for them - who treat them as furry babies. Those readers will benefit immensely from the author's investigations and experiences and their furry babies will be better off for it, as will the readers.
I highly, highly recommend this to all pet lovers. This is the number one resource for dog and cat lovers alike, as well as an incredibly enjoyable and touching story.
★★★★
☆
= Really Liked It