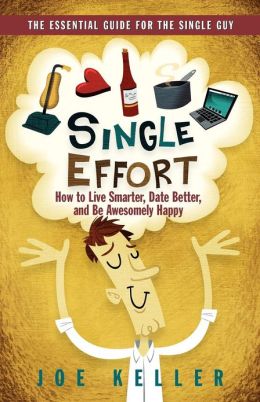 Whether you're single by choice or by chance, it's wildly different than living with a partner. Most books on the subject read like cheerleading for cave-dwellers or sex guides for the hopelessly hapless. Why can't someone just tell it like it is? Joe Keller does just that. From food to fun, and finance to romance, Single Effort delivers clear, real-world advice to help you live a dynamic, successful life as a single guy.

Heartfelt, funny, and always practical, Single Effort is a must-read for single guys everywhere. It's also perfect for anyone (male or female, single or not) in search of unique dating and lifestyle ideas or a more fulfilling life. Destined to become a classic, this indispensable guide will change how you think about being single and help you find the life and love you seek.


---
Received for review.
Okay, so you may have noticed that I'm not a guy. So, why am I reviewing a book for single guys, you ask? Yeah, I don't know either, but it sounded interesting! :)
This is the basic of all basic guides for single guys. Seriously, it is for those guys who have moved from having their mothers cook and clean for them to having wives do it for them. The author's assertions that a guy should hire a maid/housekeeper to replace his ex-wife is borderline offensive since it implies that his wife was just there to keep house for him and he can just hire someone to do that so a guy should just stay single, date around, and have a housekeeper do all the "wifely" work for him.
Despite the obvious shortcomings of the author's attitude, there are some good tips for the "how to boil water" crowd. He details how to choose a wine, a few simple dishes to cook, etc.
I'm going to give this two stars (as opposed to one) only because it does contain some helpful information for guys who have never washed laundry, cooked, or cleaned for themselves which may be beneficial in the transition period until they can either hire a housekeeper to do it for them or acquire a wife to do it for free.
★
★
☆☆
☆
= Just Okay