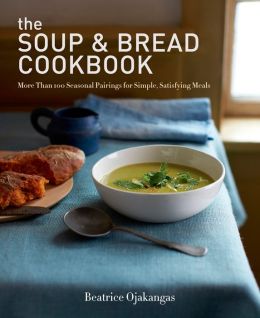 From one of America's most prolific and beloved cookbook authors comes a compendium of unique recipes for a universally appealing subject. This broad collection of soups, broths, bisques, and chowders ranges from summer coolers and hearty, warming stews to smooth, creamy soups and fiery broths. Marked by their straightforward preparation, accessible ingredients, and original pairings, Ojakangas's collection not only taps into her Scandinavian heritage but into flavorful soups from around the world—there's Swedish Pea, Morroccan Vegetable, Borscht, and Chicken and Dumplings to Feijoida, French Onion, Italian Meatball, and Asian Lemon Ginger.

The bread recipes alone could fill a cookbook. Loaves, buns, sticks, and flatbreads are here, along with pretzels, pitas, toasts and focaccias. Organized by season and complemented by evocative photographs, The Soup & Bread Cookbook is an ideal volume for anyone who takes comfort in the essential pleasures of a bowl of soup and warm bread.


---
E-galley received for review.
I adore soup. I adore bread. So a cookbook that combined both simply could not be passed by!
The beautiful photographs of nearly every dish immediately grab you. Granted, some of them are a bit on the dark side and rather overly rustic, but they showcase the dishes nicely.
The recipes themselves range from cold soups to hearty stews and scones to breadsticks. There are many meat free options as well. You simply cannot come away from this book without finding at least a few recipes to try. I found several that I'm looking forward to making:
Sausage & Vegetable Minestra
Italian Turkey Meatball Soup
New Potato & Chive Soup
Ham & Green Bean Soup
Blueberry Banana Bread
Mushroom-Barley Soup
Ham & Fingerling Potato Soup
Overall, I was quite impressed with the wide variety of soups and breads offered. Many of the breads can even be made after the soup goes on the stove to simmer and they can be ready at the same time. The only things that took away from it were the wide variety of international-type soups - curries and borschts and such. Not everyone enjoys a soup that sets your mouth on fire, and one can only consume so much beets and cabbage. If the majority of the recipes had been more mainstream, then it would have been four stars, but many of the soups were just not ideal for most readers.
I do recommend at least picking up a copy from your local library if you are a soup lover. I'm sure you'll find at least a few recipes that you will enjoy.
★★
★
☆☆
= Liked It