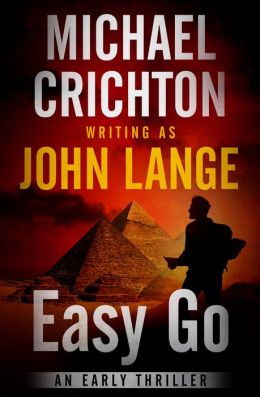 When he finds clues to an ancient treasure, an Egyptologist plans a very modern heist
Brilliant Egyptologist Harold Barnaby has discovered a message hidden inside a particularly difficult set of hieroglyphics. It just may lead him to a secret tomb holding the greatest riches of the ancient world. Barnaby could put his name to the most fantastic archaeological find of the century. But he doesn't just want to dig it up. He wants to steal it.
With the help of a smuggler, a thief, and an English lord, he plans his heist. They find that tomb raiding is trickier than they thought, and those who steal from dead Egyptians face dangers worse than a mummy's ancient curse.
This ebook features an illustrated biography of Michael Crichton including rare images from the author's estate.
---
E-galley received for review.
I generally enjoy Michael Crichton's books so I was intrigued when I was offered this early volume by the author writing as John Lange.
While the story was his trademark adventure type (I think it just added to it that it was set in Egypt) there was something just a tiny bit off about the experience. I'm not sure if it was the writing, or the time period (it was written in the sixties), or what but it just didn't feel quite ... done. It reminded me of a slightly underdone piece of toast that is just barely crimping up but hasn't browned yet. It was right there on the cusp of greatness. It just wasn't Jurassic Park.
This doesn't mean that the book wasn't thoroughly enjoyable, because it was. It was a fun scientific adventure story. It was intelligent and readable and actually rather educational. It was a nice look into how the author developed his writing over the years.
If you're looking for a fun, intelligent, adventurous read, this is the book for you and I certainly recommend it.
★★
★
☆☆
= Liked It