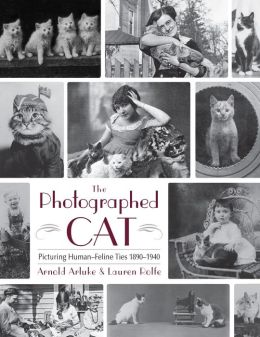 With more than 130 illustrations, The Photographed Cat: Picturing Close Human-Feline Ties, 1890–1940 is both an archive and an analytical exploration of the close relationships between Americans and their cats during a period that is significant for photography and for modern understandings of animals as pets. This volume examines the cultural implications of feline companions while also celebrating the intimacy and joys of pets and family photographs. In seven thematic sections, Arluke and Rolfe engage with the collection of antique images as representations of real relationships and of ideal relationships, noting the cultural trends and tropes that occur throughout this increasingly popular practice. Whether as surrogate children, mascots, or companions to women, cats are part of modern American life and visual culture.


---
E-galley received for review.
As you know, I love all things cat so I was really psyched to be able to review an e-galley. I have to admit that this was not quite what I'd expected, not that it was at all bad.
I was expecting something more along the lines of the typical cat book - pictures of cute kittens or cats looking adorable and with minimal text. This, however, is more of a scholarly text which thoroughly discusses the lives of cats and their interactions with humans during the time period.
I'm not going to say that this was a particularly happy book. You could tell that the majority of owners pictures merely tolerated the cats in their homes and some perhaps felt some sort of fondness towards them, but they were clearly not loved. There was more of a feel of cats as home accessory or a sort of servant to kill rodents, but there was no love felt by the humans towards the cats. This, of course, was really quite sad and I'm not big on sad animal books. The authors, of course, did not actually show any abused animals, but the photos showed that the humans did not truly care for their cats.
The sole exceptions seemed to be the cats on ships. Although, I have no idea what sort of sick person would put a cat on an active war ship. You could tell that the sailors genuinely cared for their cats as mascots and pets. They seemed to be the most caring and least abusive group depicted (some of the children pictured with cats seemed like budding serial killers, and you could tell that the farm cats were tolerated as mousers and kept in a cold barn all winter - if they were lucky). They were the only group to be pictured actually looking at the cats with genuine fondness and handling them gently.
So, if you're looking for a scholarly text on human and cat interactions during the time period, this is it and I recommend it. If you're looking for a light, happy book of cat pictures there are better options for you.
★★
★
☆☆
= Liked It