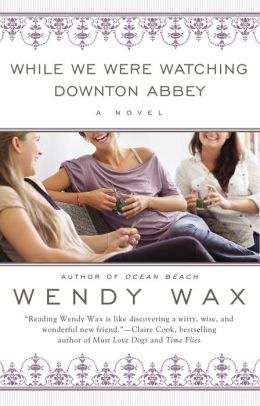 Samantha's marriage has been complicated by love and compromised by a shattering family betrayal. Claire, an empty nester and struggling author, is wondering if clinging to old dreams can be more destructive than not having any dreams at all. And after countless battles with her faithless ex-husband, Brooke is coming to terms with the fact that her life is not the fairy tale she thought it would be.
But when Edward, the concierge of their historic Atlanta apartment building, invites them for weekly screenings of an addictive television show, the four of them embark on a season of surprises as they forge a bond that will sustain them through life's hardest moments—all of it reflected in the unfolding drama, comedy, and convergent lives of Downton Abbey.
---
Received for review.
I'll admit it, despite my love for Hugh Bonneville I simply did not fall in love with Downton Abbey. I know, I know, it's shocking! So why, you ask, did I pick up a book about the show? Well, it's really more of Chick Lit with Downton Abbey as the bonding agent. It does address the show, but it's not like it's nonfiction about the show.
The author weaves four very disparate lives together beautifully, as she does in all of her books and her writing is lovely and engaging but the characters themselves weren't people you'd particularly want to be friends with if they were real people, but as characters they were interesting. I didn't strongly connect with any of them, which made the book a bit less enjoyable than it could have been. I frankly couldn't care less about Samantha's "problems", and Brooke was a wee bit stereotypical (her ex is a jerk, etc., etc.).
Despite the obvious flaws the idea and story were reasonably good and resulted in a tolerable read.
If you're looking for something full of feminine angst to read on the beach this summer, look no further.
★★
★
☆☆
= Liked It