Elizabeth Romero, author of the book Means to an End, stopped by to share with us a piece she wrote.


---
I've been asked many times how my novel MEANS TO AN END came to be. Was it an autobiography? Did I dream one night and suddenly an idea formed in my subconscious mind?

No, this story is not about my life… not exactly, but we certainly draw from our life experience and my life was full of unusual experiences. How can one write believable stories unless there is some experience that lends authenticity to the emotions? Actors are often asked to draw on a very sad event in their lives to allow them to feel the depth of a particular scene. Does the scene at hand have anything to do with the experience that was drawn upon? No, probably not, but given that, the emotion will appear more real than it would have been without anything to draw on.

I knew that one day I would write, and I believe that many first novels draw primarily on some aspect of us. So it was just a matter of time. For my entire childhood, I knew that my life was different from that of my peers. I also knew that I had an inner strength that set me apart.

The novel begins when Ashby Devereaux (the protagonist) is a young teen and brings the reader along as she struggles through her teen years. I had already determined that Ashby would go far in life and reach out to the most vulnerable. She would right the wrongs and face the demons that she had not been able to do for herself. So I knew where she started and what had brought her to her seventeenth birthday. I knew where I wanted her to be by the end of the book. It was just a matter of filling the trip with interesting characters and suspenseful events. It was during that "filling in" that I realized that my heroine would go on to fulfill my dreams in two more upcoming novels.

So all these elements came together at just the right time and MEANS TO AN END was born. A professor once told me that she taught writing because she always wanted to be a writer. Certainly she knew the functional elements of a story but just could not pull these elements together for herself when she sat down to write. So she was more like me than I realized. I had always wanted to be an attorney and serve the underprivileged and downtrodden but given my history that was an impossible dream. Now with writing I can be anyone I wish to be, do anything I dreamed of doing. My hope is that my stories and my insight will light a spark in someone who may otherwise think that their life has limits. We can all soar in our own individual way.

Struggle was a way of life for me growing up but never would I have believed that those very struggles would give me the strength that I needed later in life. Additionally I could never have predicted that the tragedies and triumphs of my life would come together, be restructured, and molded into a trio of psychological thrillers. I am working on the second novel and have no idea where my protagonist will go next. None the less, I can't wait each day to grab her hand and follow along on her suspenseful journeys.

Elizabeth Romero
Author of MEANS TO AN END
---
About the book: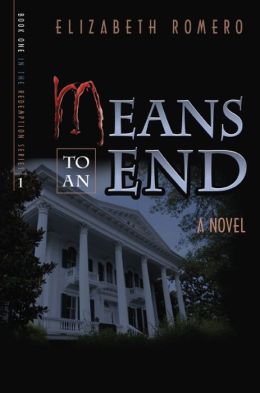 When Marie Broudreaux, the beloved daughter of wealthy and prideful Louisiana Cajuns finds herself disgraced, pregnant with twins and abandoned by her family, she is forced to save the family name by becoming the wife of Garrett Devereaux, who unbeknown to her Father is a cruel and abusive man. Both twins, Ashby and Danny along with their now drug addicted mother struggle to survive in the backwards mountains of North Carolina. Abuse and murder are hidden behind a veil of ignorance in the mountains and hollows of a region far removed from the many changes of the world in 1985. Seventeen-year-old Ashby Devereaux is growing up fast. Escape to a better life seems impossible as long as Garrett is alive... Alone and running from the authorities Ashby assumes a new identity and returns to the New Orleans of her mother's stories in search of her runaway twin. While hiding amongst a group of interesting characters and with the law nipping at her heels Ashby unwittingly catches the attention of a local Judge. Will he still love her when he finds out the truth or will he turn her in? Has that been his plan all along? Follow Ashby and a diverse group of powerful characters as you turn the pages of this fast-paced mystery. You will meet a personality that you will not soon forget.
---
About the author:
Elizabeth Romero was born the third of four children in North Florida. She relocated to Louisiana in her early teens where she remained for the greater part of her life. Her interest in writing started with reading as a child when books would whisk her away to wonderful places where the author controlled the outcome. Her own novel was always waiting for just the right time. Well that time came when Katrina hit in 2005. She moved to Las Vegas, Nevada where she started her novel, while working in real estate. In 2010 she retired to Miami to write full time. Elizabeth lives on a lake with her writing pal and constant companion, her dog Charlie. 'Means To An End' is the first of three novels in the 'Monique Moreaux Series' and the second a psychological thriller is presently in the works.
---