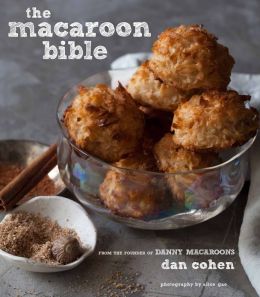 Despite perennial interest in French macarons, as well as other unique dessert subjects like cake pops and whoopie pies, this is the first book that celebrates traditional macaroons. But these are nothing like the old-fashioned macaroons you may remember. Famous for his flavors of Danny Macaroons like salted caramel, Baileys, and red velvet, Dan Cohen offers macaroons for a new generation with nostalgic appeal for people who grew up on them. This unique cookbook is sure to delight anyone who loves to bake, but one special thing about macaroons is that they're naturally gluten-free, made mostly with shredded coconut, sweetened condensed milk, and egg whites, plus whatever flavors you can imagine. This is great news to people who can no longer eat many desserts like cookies, cakes, and pies. Almost all of the fifty recipes are shown in beautiful photographs, and though making macaroons can hardly be any easier, there are step-by-step technique photos for first-timers.
---
E-galley received for review.
You know I love cookies and you know I love cookbooks so a cookbook of cookies I simple could not pass up!
I have to say that I am not enamored of the French macarons. I know, I know, they're pretty and delicate but they are impossible to make unless you actually
are
Martha Stewart which sort of takes any joy away. But macaroons can be made by mere mortals and are chewy with a crispy crust and are virtually impossible to screw up. Hence my love for them. I haven't made any in simply ages so I was thrilled to get plenty of ideas from this fabulous collection of recipes!
So, the recipes - yum! There are recipes for all palates from Piña Colada to Chocolate to Cappuccino to the traditional Vanilla. This book has them all! And each recipe is stunningly photographed by the clearly talented Alice Gao.
The recipes are concisely written and easy to follow. They also come together very quickly with just a few basic ingredients that came be purchased ahead of time and kept until needed - sweetened condensed milk and coconut. The fact that they use just egg whites is fabulous
as well, since I always wonder when I'm making a gelato what the heck I'm going to do with all those egg whites - now I know - a batch of macaroons!
This would make a lovely and unique gift for the cookie lover or baker on your list. Or just a special treat for yourself to add to your collection. It is sure to be enjoyed by all. I highly recommend it!
★★★★
☆
= Really Liked It