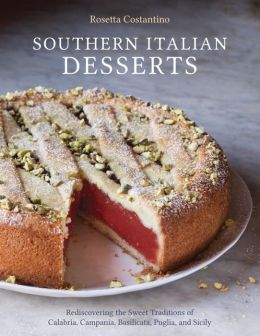 An authentic guide to the festive, mouthwatering sweets of Southern Italy, including regional specialties that are virtually unknown in this country as well as variations on more popular desserts such as cannoli, biscotti, and gelato.
As a follow-up to her acclaimed My Calabria, Rosetta Costantino collects 75 favorite desserts from her Southern Italian homeland, including the regions of Basilicata, Calabria, Campania, Puglia, and Sicily. These areas have a history of rich traditions and tasty, beautiful desserts, many of them tied to holidays and festivals. For example, in the Cosenza region of Calabria, Christmas means plates piled with grispelle (warm fritters drizzled with local honey) and pitta 'mpigliata (pastries filled with walnuts, raisins, and cinnamon). For the feast of Carnevale, Southern Italians celebrate with bugie("liars")—sweet fried dough dusted in powdered sugar, meant to tattle on those who sneak off with them by leaving a wispy trail of sugar. With fail-proof recipes and information on the desserts' cultural origins and context, Costantino illuminates the previously unexplored confectionary traditions of this enchanting region.
---
E-galley received for review.
I adore cookbooks, especially ones about sweets so I just knew I would like this volume as well. I was certainly not disappointed.
The photographs by Sara Remington were lovely and made you want to try each and every recipe! And there is a photograph for almost every recipe, which is extremely helpful, and tempting!
I can't wait to try a few recipes:
Soft Almond Cookies
Dark Chocolate Gelato
White Chocolate Gelato
There are recipes covering everything from cannoli and cookies to tarts and cakes, and, of course, gelato. I'm sure you will find at least one recipe you'd like to try, and while you're looking you can check out the stunning photographs of both the recipe results and the corresponding landscapes in Italy where they originated. Although I'll admit I was hoping for a less fussy group of recipes, there were at least a few that do not require an entire morning in the kitchen,
and several others that do.
This would make a lovely gift or simple an interesting read for yourself. I certainly recommend at least a peek inside, if only for the beautiful photographs.
★★
★
☆☆
= Liked It