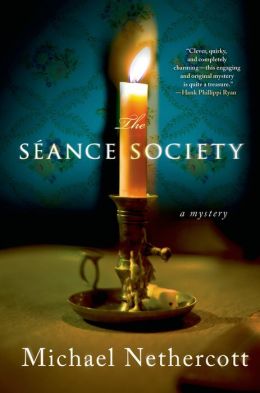 It's 1956, and Lee Plunkett has taken over the family business as a private investigator despite his reluctance to follow in his father's footsteps.
When murder intrudes on a group of ghost seekers, Lee is asked to solve the case by a cop on the verge of retirement. At the urging of his perpetual fiancée Audrey, Lee enlists the help of Mr. O'Nelligan, a scholarly Irishman with a keen eye for solving mysteries. The duo is drawn into a murder investigation involving the "Spectricator," a machine designed to communicate with the dead.
Soon, Plunkett and O'Nelligan are knee-deep in a suspect pool that includes a surly medium, a former speakeasy queen, a mysterious Spanish widow, and a whole slew of eccentric servants. Engaging, charming, and smart, The Séance Society by Michael Nethercott is a fresh take on the traditional mystery genre for readers who love original characters, witty dialogue, and a great whodunit.
---
E-galley received for review.
I always enjoy a good mystery so I was intrigued to read this one. I was initially drawn in by it but it very quickly became rather wearying.
The setting was 1956 but the author seems to take every opportunity to mention that. It became almost annoying. It was as if he were trying to write an Archie Goodwin and just not doing it very well. The details of the time didn't flow in the story and felt almost forced, not effortless at all.
The main character himself, Lee, was also too fake feeling. He was a caricature of a sidekick and really rather on the annoying side. He had none of the charm of Archie or Captain Hastings to offset his annoyances either. His "assistant" (a.k.a. the guy who actually solves the crimes) Mr. O'Nelligan was Irish, as was mentioned at every available point. Mr. O'Nelligan was marginally more tolerable than Lee, but not by much. His literary references were annoying to both the main character and the reader, although he seemed like a nice enough guy.
The story was marginal, and extremely predictable at points, despite the addition of the ghostly element (which wasn't as well done as a Mary Roberts Rinehart by any means) and lead up to the inevitable finale in the library (living room, whatever). The big reveal had none of the panache of Poirot and really wasn't even that good anyway. The reader could deduce the how as soon as investigations began so it was really the why that was in question and that reveal wasn't even that great either.
Overall, it was an acceptable book. There was nothing outstanding about it by any means but it was readable and decent enough to finish just rather bland. I wouldn't go out of my way to pick up a copy, but if you see it at the library you may want to check it out.