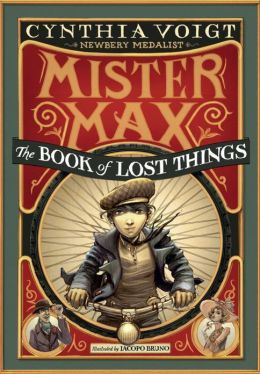 Newbery medalist Cynthia Voigt presents a rollicking mystery in three acts!
Max's parents are missing. They are actors, and thus unpredictable, but sailing away, leaving Max with only a cryptic note, is unusual even for them. Did they intend to leave him behind? Have they been kidnapped?
Until he can figure it out, Max feels it's safer to keep a low profile. Hiding out is no problem for a child of the theater. Max has played many roles, he can be whoever he needs to be to blend in. But finding a job is tricky, no matter what costume he dons.
Ironically, it turns out Max has a talent for finding things. He finds a runaway child, a stray dog, a missing heirloom, a lost love. . . . So is he a finder? A detective? No, it's more. Max finds a way to solve people's problems—he engineers better outcomes for them. He becomes Mister Max, Solutioneer.
Now if only he could find a solution to his own problems . . .
---
E-galley received for review.
I'll admit it, it was the cover art that initially attracted me to this. I'm shallow like that. :) The book, thankfully, turned out just as well as one could have hoped from a great cover.
On the subject of great artwork, the illustrations by Iacopo Bruno were quite lovely and really helped you to imagine Max and his world.
As for the story, I'm so glad that this will be a series. It turned out to be quite a fun series of adventures and I look forward to seeing what Max and Company are up to next.
Max and his parents and grandmother are easy to identify with, and people you'd probably actually like to be friendly with in real life. The supporting characters, Pia, Joachim, Ari, Gabrielle, etc. are just as enjoyable. While you may not immediately like them they do have redeeming qualities.
The setting is the early 20th century so adds an extra flavor to the story, but isn't so overwhelming as to become annoying as in so many other books.
The way the various adventures are woven together is so well done as to feel almost effortless. Even after figuring out several pieces of the puzzles you are still left wanting to see how it all works itself out.
Frankly, although this is a young adult book it's also a fun read for adults as well. I genuinely highly recommend this!