---
About the book: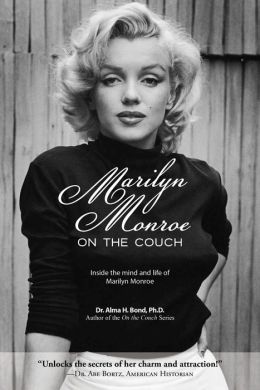 There is much written, rumored, told, and retold about Marilyn Monroe, but the most unusual and remarkable fact about her is this: In person as well in her films, she appeared to be outright luminous? enveloped by a glow, like a firefly in the dark.

Even Laurence Olivier, who costarred with Marilyn in the 1957 film The Prince and the Showgirl, saw it. Though he seemed to dislike her intensely, he had to admit that, in all her scenes, she lit up the screen.

But exquisite as it can be, luminosity can be a kind of camouflage. It can hide the truth underneath.

What exactly was Marilyn illuminating in the atmosphere that surrounded her? Her beauty was certainly stunning, dazzling—blinding, even—but what did it hide?

Marilyn, more brilliant than many understood, knew well the difference between looking upon the light and seeing beyond the glow. "Men do not see me," she said. "They just lay their eyes on me."

Psychoanalyst and longtime woman's biographer Dr. Alma Bond imagines, in detail, a several-year stretch during the late 1950s and early 1960s, when Marilyn, an exceedingly fragile figure, submits to analysis on the couch of Manhattan psychoanalyst Dr. Darcy Dale and, following her . return to Hollywood, corresponds with her.

Brilliantly, entertainingly, and movingly, Marilyn Monroe: On the Couch shows just what lay beneath Marilyn's radiance. Dr. Dale, a fictional stand-in for the author, Dr. Bond, sees Marilyn Monroe as few ever have, both inside and out, and transfers those insights to readers. It's impossible to imagine anyone providing a better, more complete, intimate, and unforgettable understanding of this truly remarkable, iconic, and even pivotal figure in film and sexual history.

---
About the author:
Dr. Alma H. Bond is the author or co-author of twenty-one published books, including this one. Among her others: Jackie O: On the Couch; Lady Macbeth: On the Couch; Michelle Obama: A Biography; The Autobiography of Maria Callas: A Novel; Margaret Mahler: A Biography of the Psychoanalyst; Camille Claude: A Novel; America's First Woman Warrior: The Story of Deborah Sampson; and Who Killed Virginia Woolf? A Psychobiography.
Dr. Bond received her Ph.D. in Developmental Psychology from Columbia University, graduated from the post-doctoral program in psychoanalysis at the Freudian Society, and was a psychoanalyst in private practice for 37 years in New York City. She "retired" to become a full-time writer.
Dr. Bond is a member of the American Society of Journalists and Authors, the Dramatists Guild, and the Authors Guild, as well as a fellow and faculty member of the Institute for Psychoanalytic Training and Research, the International Psychoanalytic Association, and the American Psychological Association. She was one of the first non-medical analysts to be elected to the International Psychoanalytic Association.
Dr. Bond grew up in Philadelphia, where she obtained her undergraduate degree in psychology from Temple University, and following voluntary military service, moved to New York, where she earned a graduate degree in psychology from Columbia University.
A longtime resident of New York City, she lived for nearly a dozen years in south Florida, and now resides in Carlisle, Pennsylvania.
---