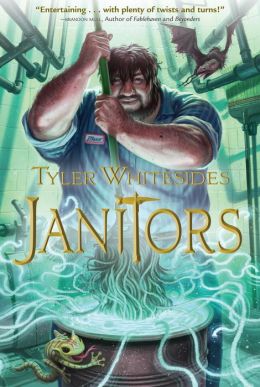 Have you ever fallen asleep during math class? Are you easily distracted while listening to your English teacher? Do you find yourself completely uninterested in geography? Well, it may not be your fault.
The janitors at Welcher Elementary know a secret, and it's draining all the smarts out of the kids. Twelve-year-old Spencer Zumbro, with the help of his classmate Daisy "Gullible" Gates, must fight with and against a secret, janitorial society that wields wizard-like powers.
Who can Spencer and Daisy trust and how will they protect their school and possibly the world? Janitors is book 1 in a new children's fantasy series by debut novelist Tyler Whitesides. You'll never look at a mop the same way again.
---
Received for review.
I love YA books and this just looked like a fun series from the first glance. I certainly was not disappointed. Shadow Mountain also publishes another author who I really like, James Dashner, and this series favorably reminded me of his books.
The combination of adventure, friendship, and scary monsters combined for a lovely fast, fun, supenseful read suitable for children and adults alike. The young characters were likable and identifiable and one felt like they could be people you'd like to know in real life. The story, while fanciful, was solid as well.
Overall, I found this quite entertaining and a great start to a new series. I am definitely looking forward to reading the other books in the series.