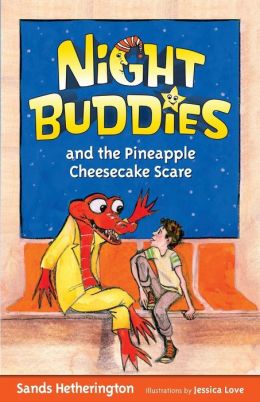 When pineapple cheesecakes start disappearing from the world's only Pineapple Cheesecake Factory across town, Crosley, a zany red crocodile, enlists the help of young John Degraffenreidt to straighten things out. In this adventure-fantasy, the unlikely pair sneaks out of John's house by becoming invisible, thanks to the I-ain't-here doodad Crosley uses from the bunch of whatchamacallits hanging on his belt. On the way to the subway they get better acquainted, and John finds out the wacky reason Crosley is red, and also what happens if he gets any water on him. They get on the Night Folks Limited train and ride all the way to the Cheesecake Factory where they meet the giant manager, Big Foot Mae. There is danger ahead, but the Night Buddies must stay with their "Program" (the Night Buddies word for Adventure) if the world's supply of pineapple cheesecakes counts for anything. And it surely does, especially to Crosley who is totally goofy about the things and never seems to get his fill.
---
Galley received for review.
This was a cute little children's book but not spectacular. Neither John nor Crosley were particularly likable and Crosley was more than a little annoying. The story itself was cute and had a vaguely Charlie and the Chocolate Factory feel to it.
If you're looking for a new children's book this is a solid option but I wouldn't rush out to get a copy.
★★
★
☆☆
= Liked It