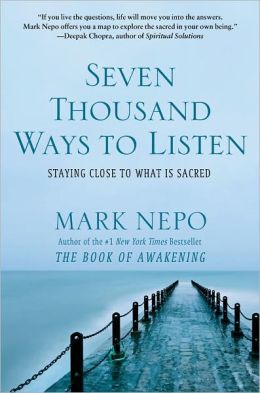 MARK NEPO MOVED AND INSPIRED millions of people with his #1 New York Times bestseller The Book of Awakening, a spiritual daybook that draws on his awakening through cancer to offer life lessons from all the spiritual traditions. In his continuing exploration of the human journey, Nepo has been called "one of the finest spiritual guides of our time," "a consummate storyteller," and "an eloquent spiritual teacher." In his latest book, he inquires into the endless ways we are asked to listen. Experiencing hearing loss himself, Nepo affirms that listening is one of the most mysterious, luminous, and challenging art forms on Earth: "Whatever difficulty you face, there are time-tried ways you can listen your way through. Because listening is the doorway to everything that matters. It enlivens the heart the way breathing enlivens the lungs. We listen to awaken our heart. We do this to stay vital and alive."
In Seven Thousand Ways to Listen, Nepo offers ancient and contemporary practices to help us stay close to what is sacred. In this beautifully written spiritual memoir, Nepo explores the transformational journey with his characteristic insight and grace. He unfolds the many gifts and challenges of deep listening as we are asked to reflect on the life we are given. A moving exploration of self and our relationship to others and the world around us, Seven Thousand Ways to Listen unpacks the many ways we are called to redefine ourselves and to name what is meaningful as we move through the changes that come from experience and aging and the challenge of surviving loss.
Filled with questions to reflect on and discuss with others and meditations on how to return to what matters throughout the day, this enlightening book teaches us how to act wholeheartedly so we can inhabit the gifts we are born with and find the language of our own wisdom. Seven Thousand Ways to Listen weaves a tapestry of deep reflection, memoir, and meditation to create a remarkable guide on how to listen to life and live more fully.
---
Received for review.
I am always intrigued by self-help books. I just find them fascinating and I was immediately drawn to this volume because of the author's warm, friendly tone which was reminiscent of Deepak Chopra.
To focus an entire book on listening may seem odd but it is a skill that many in today's society need to cultivate. This meditative book is not one that is necessarily read cover to cover in a matter of hours, but rather one that is picked up here and there and a few pages or a chapter read and digested before moving on. Cover to cover reading might prove to be too information intensive and overwhelming.
Although this is a spiritual book it is not a religious book and can thus anyone can enjoy and benefit from its teachings. It does have a distinct new age feel to it, so if that is something you're not into this may not be for you. If you are a Deepak Chopra or Wayne Dyer fan you should enjoy this and find much food for thought.
★★★★
☆
= Really Liked It