---
About the book: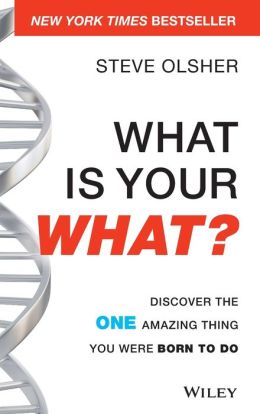 Praise for What Is Your WHAT?

"Every once in awhile a book comes along that stands out in its ability to really help people. If you are one of those people who feels unsatisfied with your work or still haven't figured out what you want to do when you grow up, read this book, do the brilliantly constructed exercises, and watch your life transform."
—Jack Canfield, co-creator of the Chicken Soup for the Soul®series and co-author of The Success Principles

"We are told the biggest regret shared by people in their final days is they did not live an authentic life. Busy living out the expectations of others, they tried to be 'responsible' and 'practical,' but missed the one thing that would have made them great. In this timely book, Steve draws from the examples of people living their WHAT to give each of us a step-by-step process for living authentically. Prepare to become who you were born to be."
—Dan Miller, New York Times bestselling author of 48 Days to the Work You Love

"Steve Olsher has done a stellar job in reminding us of the key to really engaging with our life and work. A direct, engaging, and useful manual for connecting with our own unique signatures and why that matters."
—David Allen, international bestselling author of Getting Things Done: The Art of Stress-Free Productivity

"Challenging, thought-provoking, and insightful—a great exploration into becoming who you are meant to be."
—Randy Gage, author of the New York Times bestseller Risky is the New Safe

"In a world full of fuzziness and confusion, this book is like a tiny grenade of clarity. Sharp, smart, and to the point, it's a perfect way to figure out your WHAT."
—Jon Acuff, New York Times bestselling author of Start

---
About the author:
STEVE OLSHER is an entrepreneur; creator/founder of The Reinvention Workshop; award-winning author of Internet Prophets: The World's Leading Experts Reveal How to Profit Online; creator/cohost of one of the industry's leading Internet, mobile, and marketing live events, Internet Prophets LIVE!; keynote speaker; co-star of the film, The Keeper of the Keys; and media veteran who has appeared on ABC TV, Fox TV, NBC TV, CNBC.com and more than 300 radio shows, including national programs hosted by Lou Dobbs, Jim Bohannon, and "Mancow" Muller.
---