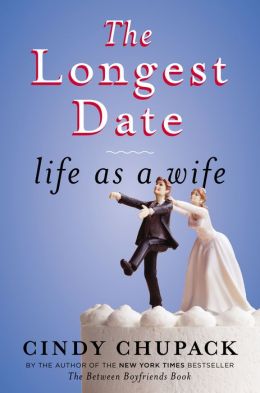 The bestselling author of The Between Boyfriends Book and an award-winning writer for Sex and the City and Modern Family takes a hilarious, heartbreaking look at marriage
Cindy Chupack has spent much of her adult life writing about dating and relationships for several hit TV series and as a sex columnist for O, The Oprah Magazine. At the age of thirty-nine, she finally found The One—and a wealth of new material.
Marriage, Cindy discovered, was more of an adventure than she ever imagined, and in this collection of essays she deftly examines the comedy and cringe-worthy aspects of matrimony. Soulful yet self-deprecating, The Longest Date recounts her first marriage (he was gay) and the meeting of Husband No. 2, Ian.
After the courtship and ceremony, both Cindy and Ian realized that happily ever after takes some practice, and near constant negotiation over everyday matters like cooking, sex, holidays, monogamy, and houseguests. The Longest Date takes a serious turn when it comes to infertility.
The Longest Date is the perfect companion for anyone navigating a serious relationship, be it newlyweds or couples moving in that direction.
---
Received for review.
I'm sure I've seen some of the author's work on the screen as she is a writer for several hit shows, but I've never actually read one of her books so I wasn't sure what to expect. I was quite pleasantly surprised though.
The book, while on the slim side, is incredibly readable due to the author's friendly writing style. It really makes you feel like you're sitting with a friend in her living room (wine optional) as she tells you her story.
The stories themselves were entertaining but, more than that, really touching. The stories about the path to parenthood weren't really for me, but the stories about the faux snow in the living room and their prenup delivered an emotional punch that one would not really expect. There was a real depth to each story that was almost unexpected.
I was very impressed and highly recommend this beautiful and funny book.
★★★★
☆
= Really Liked It