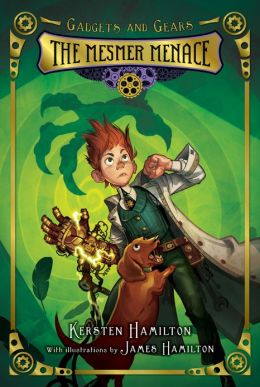 Welcome to the Amazing Automated Inn, home of twelve-year-old inventor Wally Kennewickett, his genius scientist parents, and his dashing dog, Noodles.
From the lightning harvester on the roof to the labs full of experiments in the dungeon, the inn is a wonderful place for a curious boy and his loyal dog to live.
That is, until President Theodore Roosevelt himself calls the elder Kennewicketts away, leaving Wally and Noodles to face the evil Mesmers, horrible hypnotists bent on controlling the minds of powerful people.
It seems the inn is their first stop on the way to world domination . . . and only an ingenious boy, a staff of automatons, and a brave dachshund stand in their way!
---
E-galley received for review.
I wanted to like this, I really did. It
sounded
good, but the reality fell well short of expectations.
Essentially this is a cobbled together collection of elements of a Lemony Snicket and The Invention of Hugo Cabret with a dog narrator. Don't get me wrong, I love a dachshund narrator as much as the next person and Noodles was cute, but not cute enough to save the book.
As if the Lemony Snicket style of defining "difficult" words wasn't annoying enough the author unfortunately had a fondness for alliterations which she used again and again and again.
While this is thankfully a short read it doesn't do much for the reader and is mildly amusing at best.
★
★
☆☆
☆
= Just Okay