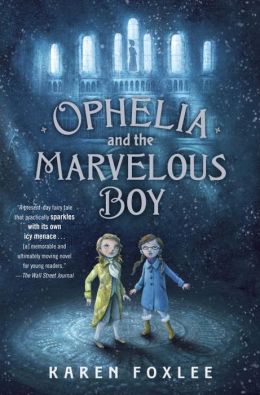 A luminous retelling of the Snow Queen, this is the story of unlikely heroine Ophelia Jane Worthington-Whittard who doesn't believe in anything that can't be proven by science. She and her sister Alice are still grieving for their dead mother when their father takes a job in a strange museum in a city where it always snows. On her very first day in the museum Ophelia discovers a boy locked away in a long forgotten room. He is a prisoner of Her Majesty the Snow Queen. And he has been waiting for Ophelia's help.
As Ophelia embarks on an incredible journey to rescue the boy everything that she believes will be tested. Along the way she learns more and more about the boy's own remarkable journey to reach her and save the world.

A story within a story, this a modern day fairytale is about the power of friendship, courage and love, and never ever giving up.


---
E-galley received for review.
This was my first experience with the author so I wasn't sure what to expect but I was very pleasantly surprised.
This was utterly delightful! It had that quality of magic and joy that you find in so few books. I found myself really drawn to Ophelia and the Marvelous Boy since they were just so generally likable. The story was intriguing and full of adventure and excitement but what really drew me in was the characters. They felt like real people.
The only thing I didn't like was the very rare mention of technology in the book. There were a couple of references to key cards and interactive displays which took a bit of the magic away as it definitely dated the book and made it less timeless. That tiny reminder that this wasn't just any place in any time, but set in modern times was just vaguely irritating.
All in all though I was very impressed and I highly recommend this. I hope to read more from the author.