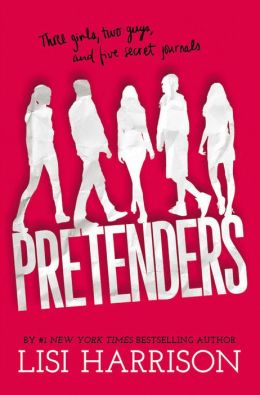 Three girls, two guys, five secret journals.
The five most popular students at Noble High have secrets to hide; secrets they wrote down in their journals.
Now one of their own exposes the private entries...
I am leaking these because I'm tired and I know you are too. The success bar is too high and pretending has become the only way to reach it. Instagrams are filtered, Facebook profiles are embellished, photos are shopped, reality TV is scripted, body parts get upgraded like software, and even professional athletes are cheating. The things we believe in aren't real.
We are pretenders.
---
E-galley received for review.
I enjoy a good teen fiction so when I came across this I was immediately intrigued. This was my first experience with the author so I wasn't sure what to expect but I was quite pleased.
While I wasn't overly taken in by the characters as people they were nicely written and believable. The journal format was fun, if a bit confusing at first, and made for an extremely fast read with breaking points every few pages.
The only thing I didn't like was that it just up and ends with a giant cliffhanger which I found a little bizarre. Of course, these were journals so I guess that is were the first student journal volumes were supposed to have run out. I didn't find it particularly annoying as I know there are future volumes but it may be bothersome to some readers as there is no closure as there is in most books in a series.
I highly recommend this fun, frothy read to anyone looking for a solid read full of teen drama.