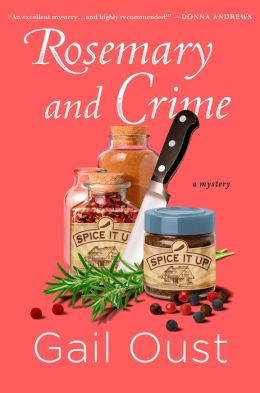 Murder comes well-seasoned in this charming mystery featuring a smart and spunky new amateur sleuth, small-town Georgia spice shop owner Piper Prescott

Piper Prescott, a transplanted Yankee living in the South, has got her sass back. She might be down, but don't count her out. "Change of life?" she asks. Bring it on. Recently divorced, Piper decides to pursue a dream she's secretly harbored: owning her own business, Spice it Up!, a spice shop in her adopted hometown, Brandywine Creek, Georgia. But Piper's grand opening goes awry when the local chef who's agreed to do a cooking demo is found stabbed. Not only did Piper find the body, she handled the murder weapon and doesn't have a witness to her alibi, making the case look like a slam dunk to brand new police Chief Wyatt McBride. Desperate to uncover the truth—and prove her innocence—Piper enlists the help of her outspoken BFF Reba Mae Johnson to help track down the real culprit. The pair compile a lengthy list of suspects and work to eliminate them using their own creative brand of sleuthing techniques including stakeouts, breaking and entering, and one very unorthodox chocolate pie. When Piper narrowly avoids being a victim of a hit-and-run, she knows she's getting closer to the truth, but can she catch the killer and clear her name before she becomes the next victim?

A captivating start to a new series featuring an unstoppably fabulous new crime-solving heroine, a colorful cast of small town characters, and more than a pinch of Georgia charm, Rosemary and Crime by Gail Oust is sure to delight fans of Diane Mott Davidson and Donna Andrews.
---
E-galley received for review.
First, I have to admit that I never did finish reading this. I actually had to abandon it after the very first chapter because the characters were too annoying to continue. They had me gritting my teeth and wanting to throw my Kindle against a wall. They were that bad.
There was nothing "charming" about the uber-bitch main character Piper. She is recently divorced from her lawyer husband who, surprise surprise, left her for a younger woman. She spends the entire first chapter bemoaning the fact that she has lost her McMansion and now has to actually work for the first time in her life. She complains incessantly about how she's so "broke" but she owns the building her shop and apartment are in. Yup, real broke there honey.
Piper's best friend is the white trash Reba Mae, proprietor of a hair salon and one time neighbor - before Piper and her husband moved to McMansionville.
The ex-husband, meanwhile, is a slimy lawyer with a 24 year old blonde, short skirted girlfriend. Frankly, if I were the husband, I would have left her too, she's such a bitch.
The cliches in the first few pages are out of this world. I've never seen such characters with so little creativity put into them. There is not a single redeeming quality among any of them, including the supposed "heroine", Piper.
I just couldn't stomach this offensive bunch of characters and their "poor me" attitudes enough to continue to even the second chapter so I can't comment on the mystery.
I cannot recommend this at all, unless you enjoy reading about privileged divorced women whining about their imaginary money problems and how their husbands left them. I certainly will not be reading future books in the series.