---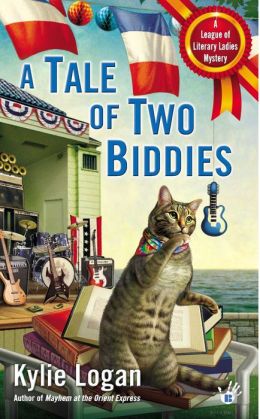 When it comes to solving mysteries, these ladies are in a league of their own…
Summer can be the best of times or the worst of times for the resort town of Put-in-Bay on Lake Erie. For Bea Cartwright, business is booming as guests storm her B and B for the Bastille Day celebration. In honor of the holiday, the League of Literary Ladies is reading the Charles Dickens' classic, A Tale of Two Cities. It would be hard to make a more apropos selection—especially when they have their very own Defarge sisters, elderly twins Margaret and Alice, who run the local knitting shop.
On Bastille Day, the head-banging rock band Guillotine shows their chops for the tourists—but the celebration is soon cut short. With something needling the Defarge dowagers and secrets that lead to murder, solving this mystery will be a far, far better thing than the Literary Ladies have done before. They'll just have to make sure to keep their heads while they try to stop a killer's reign of terror….
---
Received for review.
I recently finished the first book in this series so I was intrigued to read this second one.
I admit that I wasn't particularly in love with Bea, Kate, and Chandra's incessant bickering in the first book so I was hesitant that it would continue into this book as well. Thankfully the bickering seems to have run its course and the three are now all friends, along with Luella who was already everyone's friend in the first book. This decrease in infighting certainly improved the story this time around.
I haven't read A Tale of Two Cities since high school so I'm not exactly up on the details as I was with
Murder on the Orient Express
, and I'm not a huge Dickens fan anyway, but this worked reasonably well even if you haven't read the original. It is, of course, much better if you have read it so you can get all the in jokes but I so was not going to give myself an additional reading assignment just to get the in jokes in a cozy mystery.
Overall I was quite pleased with this and found it an enjoyable story with an intriguing mystery. It was nice, light, fluffy cozy mystery goodness. The series is growing on me and I am looking forward to the next in the series.
★★
★
☆☆
= Liked It