dee VANAD, author of the book You2preneur, stopped by to share with us an excerpt from his book.


---
My Baby, She Wrote Me A Letter
(Excerpt from the novel: You2Preneur)
You're gearing up to do a lot of business. If you are like most people, a face/face (face to face meeting) and then possibly a hand bump (more germs are transferred with the common handshake, then there are visible stars in the nighttime sky) is always preferable. If a face/face is not desired or possible, there are many more options. Cellphones allow us to do business from an airplane, the beach or a boat, a mall or nightclub, the golf course or an amusement park ride. Emails, texting and electronic pads travel with us everywhere. All of these mentionables and more, are wonderful for moving our You2Preneurial endeavors forward at a pace designed to accommodate fast, faster and warp-speed.
Still, the memorialization of agreed terms, proposals of important ideas, the concept of demands coupled with terms of acceptance, things like written propositions and communications . . . are now and always will be the way that we keep our understanding of what we set out to accomplish with someone else – safe and protected. After all, if we don't watch our own backs, who will? Writing it down simply offers a person the chance to really think about what is to be said, including nuances like fine-tuned phraseology, emphatic terms and clauses – and the exact chronological order in which the ideas will be presented to the reader/recipient(s).
I can't forget the time my office intercom beeped. I was corporate counsel for a large insurance company and it was the CEO calling. "I need you in my office on a project." Responding that I'd be right there, the walk across the office complex gave me a couple minutes to wonder about what was up. Did we get sued? Was a take-over threat perceived? Were we about to go head to head with a national provider/competitor? Maybe we were about to go on the offensive and file a lawsuit against a target.
I sat down at the top-dog's desk. He was always pleasant to deal with and interesting to talk to. In his case, good looks and good fortune produced a genuine human being who liked having interpersonal relationships on a business level: "I need you to write a letter for me." There's a first time for everything and I was on it with expected anticipation. "What's the legal scenario," I wondered out loud. "It's not legal," came the somewhat surprising reply. My boss went on to quickly explain that he needed to correspond with a business associate over what turned out to be a rather bland set of fairly commonplace business particulars.
I guess the look on my face gave away the fact that I really didn't understand why he needed me on an elementary task that seemed so far beneath my talents. "I want this to sound intelligent, and I knew you'd be the right man for the job," was sort of the ending part of a quick meeting where, when you find yourself in this type of situation – one just sort of nods one's head up and down a few times, knowingly. I assured him he'd have it on his desk pronto.
What I wrote really doesn't matter, because the point is that what happened next shocked me. I spit the letter out into my Dictaphone; my secretary typeset it; I proofed it and had it shot over to the company's fearless leader. It wasn't more than a few minutes and he called me. "I like your letter in general, but why all the big words," he wanted to know? Surely, he hadn't run into a problem understanding the letter, which I knew flowed rather nicely. He'd married into this family-run business, as big as the company was . . . but still, the man had to have some sort of a formal education. I pulled the letter I wrote, purportedly from him to his associate. The biggest word from start to finish was: 'distinguished'. How do you tell a college-educated CEO who is helping run a multi-billion dollar nationally-known insurance company, that the letter he is describing is simplistic, clean, free of legalese . . . and that going any simpler with it meant that I might have considered consulting my grade-school-aged daughter?
Thinking it over for a few moments lead me to the realization that the problem I'd been called in to solve had little to do with content. Whittling it down, I figured my boss realized he needed a short lesson in the art of communicating in the written form. In other words, he now intended to write the entire content of the letter himself and use my format to produce a polished look.
Most people take getting a business letter out, for granted. One really doesn't think too much about it until there's a need for the perfect combination of written words to make an impressive visual presentation on someone's screen or even on a piece of paper. Like photographic snapshots – there are some that are good and many that stink. A letter makes an overall appearance on behalf of the author. With that appearance comes a certain 'feel' that is picked up by just about anyone who ends up reading what you wrote. It's not just the words themselves. A letter is a picture of words and like the old saying goes . . . every picture tells a story. My boss knew that much. And he felt uncomfortable enough with his own skills, to call upon a corporate lawyer to author his own non-legal, simple business communique'.
Your business letter is best if you simply ask yourself what you would like to read, if you were the person getting your letter. Mistakes in this arena are made all the time. Correction of errors caused by lack of clear foresight, absence of reality, laziness or just plain haphazardness – takes a little training.
*In my next installment, with the approval and invitation of BethsBookReviews.com – I have some great examples and all of the keys to ensure your next written communication or documentation … sparkles. dee VANAD
---
About the book: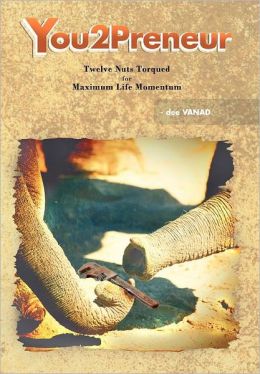 Through an irreverent, whimsical and always entertaining style of storytelling, You2Preneur takes us on a journey. This includes an introduction to a master revelation from a colorful and crusty circus mid-way barker. A professor appears who is all theatrical thespian with his tortured delivery of black-letter law. Angels descend from the heavens to intercede in much beyond matters of life and death, including the future of a weathered 1964 National electric guitar. Self-deprivation writhes and rises up to hunt down and harpoon a back-monkey. Open these pages to the immediate thrill of a maniacal toboggan ride, while midgets look on with pleasure. A glowing cigarette coal brings 40 years of alma mater banishment; but do not give into the temptation to judge a lifetime ban as a bad thing, necessarily.
Your curiosity, passion and driving desire to launch you as a brand is the engine that You2Prenuer was created to fuel. This is not a business-tips treatise, nor is it a self-help manual, because for concrete formulas - the soul cares not. Human desires reside therein, and it's the soul from where they boil forth.
All of life's best was waiting for VANAD to claim it. Then launch from it.
You2.
---
About the author:
dee VANAD had his first novel,
You2Preneur – Twelve Nuts Torqued for Maximum Life Momentum
published recently. The popular book is available in hardbound, softbound and Ebook formats on Amazon.com, BarnesandNoble.com, AuthorHouse.com and wherever finer books are sold. The book is able to be visited on its own website:
You2Preneur.com
VANAD is a well-known trial lawyer based in Columbus, OH. Two years ago, he took much of what appears in his book to heart, to follow some of his yet unfulfilled dreams. A longtime musician, he was asked to join a rock band in order that the Central Ohio group could travel to the world famous Sturgis Motorcycle Rally in Sturgis, SD – to entertain the throngs. With his wife's permission, he did that … and went on to perform with the same band throughout Central Ohio and then again the following year for a return week of performances at the Sturgis Rally. He has expanded his horizons now, while keeping involved with the law – to deliver entertaining and engaging public speaking appearances throughout the country, loving the travel and adventures on the road with his wife of 22 years – Beth. VANAD continues to deliver blazing public appearances performing as lead guitarist for a variety of rock and country rock musical acts, as well. Lately, calls are coming from some in Washington, DC who at this point, will remain anonymous. It seems that the lawyer's skills as a poignant, thoughtful and entertaining writer … have caught the attention of several national leaders in need of his services. But whether a household move is in the offing presently, or not – he would love your access and review of what he predicts is just the first of many more novels to come from –
the VANAD
. Two fiction novels are presently underway. Stay tuned.
---
a Rafflecopter giveaway
---