Patrick Lee, author of the book Runner, stopped by to share with us an excerpt from his audiobook, as read by Raul Esparza.


---
Listen to an excerpt here
---
About the book: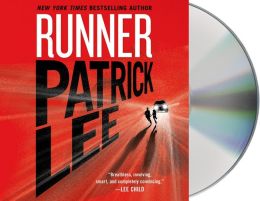 THE NEW YORK TIMES AND USA TODAY BESTSELLING AUTHOR OF THE BREACH LAUNCHES HIS EXPLOSIVE NEW THRILLER SERIES FEATURING FORMER SPECIAL FORCES OPERATIVE SAM DRYDEN – READ BY ONE OF TV AND BROADWAY'S FINEST!

Sam Dryden, ex-Special Forces, lives a quiet life in a small town on the coast of Southern California. Out for a run in the middle of the night, he encounters a young girl on the seaside boardwalk. Barefoot and terrified, she's running from a group of heavily armed men with one clear goal – to kill her. Dryden learns that the twelve-year old can only remember the past two months, during which she's been kept in a secret prison by forces within the government. Beyond her own name, Rachel, she knows only that she has a skill that makes her very dangerous to these men and the people in charge of them. Dryden, who lost his wife and young daughter in an accident, agrees to help Rachel try to unravel her own past and make sense of it, and to protect her from the people who are moving heaven and earth to find them both. Although Dryden is only one man, he's a man with extraordinary skills and experience – as a Ranger, a Delta, and five years doing off-the-book black opps with an elite team. However, as he slowly begins to discover, the highly trained forces on their heels are only part of the danger they must face, because there's something else in Rachel's past, something more dangerous, more deadly, than Dryden can even imagine.

The audiobook, read by the extremely talented Raul Esparza, who currently has a recurring role on Law and Order: SVU, brings this already thrilling novel to life with his fast-paced, high energy narration. Esparza's rough tone and suspenseful pacing contribute additional depth to Dryden and the book's other characters, making the audiobook the most exciting way to enjoy Lee's incredible story.
---
About the author:
Patrick Lee is the author of three previous bestselling novels:
The Breach
,
Ghost Country
, and
Deep Sky
. He lives in Michigan. Visit the author's website at:
www.patrickleefiction.com
or on facebook at
facebook.com/PatrickLeeFiction
.
About the Narrator:
Raul Esparza is a four-time Tony-nominated actor, singer, ad voice artist noted for his award-winning performances in Broadway Shows. His television credits include roles on
Medium
,
Pushing Daisies
, and
Law & Order: SVU
. Recently, narrating the audiobook for Stephen King's
Under the Dome
, AudioFile Magazine raved "his impeccable timing keeps the story moving."
---