Robert DiGiacomo, author of the book The Boxed Angel, stopped by to share with us an excerpt from his book.


---
Excerpt
Herman looked at the box solemnly, and leaned back in his chair. "This box, Mr. Campo, is not for man to play with and use at will. It is dangerous and powerful, and those two attributes combined can only mean death and destruction."
"Herman, I don't mean to sound doubtful, but it is a little far-fetched. I think if we open it, we'll know exactly where it came from. Anything in your search mention a key?"
Herman's face drooped. He was sure his findings were valid, but he could not prove his idea. "Mr. Campo, I don't think that would be very wise, not wise indeed. A key should never be found, and if one is, then it should be destroyed."
"Hold on, Professor, let's not jump before we tie off," Al said and reached for the manila folder. "Are the letters in here?"
"Jump? Tie off?"
"Old friend, I'm not saying we should open it without knowing everything possible about the origins and contents beforehand. I just thought if a key were found, more answers would come with it. You said you just started translating the carvings; maybe they contain helpful information. So let's just take it slow. If we find a key, we hold off until we are certain it's safe. In the meantime you can finish translating it."
Herman was a bit relieved by Al's tone and his apparent caution. One thing was certain in his mind. Even if a key were found, as long as Herman was alive, this box would never be opened.
---
About the book: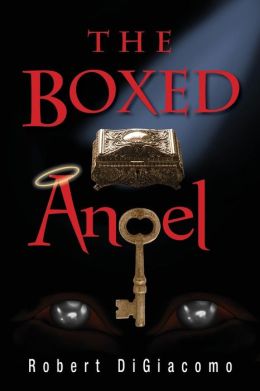 On July 3, 1776, in Philadelphia, Benjamin Franklin's home is ransacked. A secret, ancient relic is stolen. One that Franklin does not admit to owning.
Flash forward to modern times. Al Campo, a union worker by day, goes dumpster diving for old, discarded furniture at night. His aim is to refinish the pieces and make and display them in his home. One day he comes across an old couch and inside he finds the stolen artifact.
As the story unfolds, sinister Jason Gull is developing a dangerous weapon that can kill its victims without any detection or apparent cause of death. He plans to auction it off to the highest bidder-and there are many foreigners willing to pay, including a religious zealot. Will Campo and the ancient artifact be able to save the world in time?
The Boxed Angel is a suspenseful thriller in which an unsuspecting, seemingly unremarkable individual becomes involved in a life and death struggle, first by fate, then by choice. It's packed with humor, religion, intrigue, history, a love triangle, and faith in one cleverly crafted story.
Readers who loved National Treasure and other stories that weave history into modern day life will delight in all the plot twists in The Boxed Angel. Clues are cleverly interwoven into a storyline that will keep readers guessing until the very last page.
---
About the author:
Author Robert DiGiacomo grew up in the Philadelphia area where the story is set.
He has been a member of the local glaziers' union for twenty years and is now an independent contractor.
He now lives with his family on the Mainline outside Philadelphia.
The Boxed Angel is his first novel.
Readers are invited to contact him at rob@robdigiacomo.com
---