---
About the book: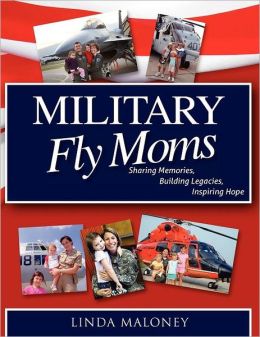 Military Fly Moms is a gorgeous coffee-table book with a collection of true stories by seventy women who shared the same two dreams-becoming a military aviator, and being a mom. The first few women, who, in the seventies, took their places in the world of all-male military aviation, paved the way for other women to follow. From flying during the Cold War to rescue missions during Hurricane Katrina to flying in combat during the current war on terror, these gutsy women-our nation's sisters, daughters, neighbors, friends, and, yes, even moms-have done it all.

Illustrated throughout with 75 stunning color photos, Military Fly Moms depicts women aviators in the Army, Navy, Air Force, Marine Corps, and Coast Guard alongside their helicopters, transport aircraft, or fighter planes, as well as highlighting their families. These stories and their accompanying photographs weave a beautiful tapestry, passing on a lasting legacy to inspire future generations to reach for their dreams.

---
About the author:
Linda Maloney, one of the first women in U.S. history to join a combat military flying squadron, is a retired military aviator and officer and a recipient of numerous military awards, including the distinguished air medal for combat, awarded for flights flown over Southern Iraq in support of the no-fly zone during her deployment to the Arabian Gulf. Along with her passion to share the stories from Military Fly Moms, Linda is a motivational speaker highlighting the importance of passing down a lasting legacy to future generations. She is also actively involved in several mentoring programs in which she encourages young people, especially young women, to reach beyond the boundless ceiling of success. She recently started My Mom Flies, a women/mom focused company, which encourages and supports moms who are managing family and career priorities while striving to achieve balance and margin in their lives. She currently lives in Rhode Island with her husband, Dan, and two young sons.
---