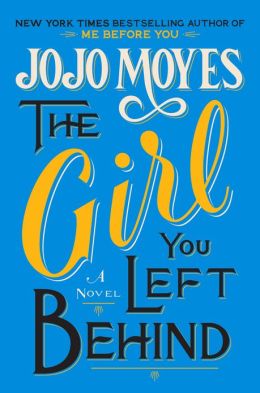 From the New York Times–bestselling author of Me Before You, a spellbinding love story of two women separated by a century but united in their determination to fight for what they love most.

Jojo Moyes's bestseller, Me Before You, catapulted her to wide critical acclaim and has struck a chord with readers everywhere. "Hopelessly and hopefully romantic" (Chicago Tribune), Moyes returns with another irresistible heartbreaker that asks, "Whatever happened to the girl you left behind?"

France, 1916: Artist Edouard Lefevre leaves his young wife, Sophie, to fight at the front. When their small town falls to the Germans in the midst of World War I, Edouard's portrait of Sophie draws the eye of the new Kommandant. As the officer's dangerous obsession deepens, Sophie will risk everything—her family, her reputation, and her life—to see her husband again.

Almost a century later, Sophie's portrait is given to Liv Halston by her young husband shortly before his sudden death. A chance encounter reveals the painting's true worth, and a battle begins for who its legitimate owner is—putting Liv's belief in what is right to the ultimate test.

Like Sarah Blake's The Postmistress and Tatiana de Rosnay's Sarah's Key, The Girl You Left Behind is a breathtaking story of love, loss, and sacrifice told with Moyes's signature ability to capture our hearts with every turn of the page.


---
Received for review.
I recently finished another book by the author,
Me Before You
, and was quite impressed. The author clearly has a talent so I was intrigued to check out this, her latest release.
I'm not normally a huge historical fiction fan, but the writing really drew me into Sophie's story and her world of wartime France. I wasn't quite as enthralled by the present day component of the story in Liv's tale, frankly because I spent a large part of her story disliking Paul and his connections with returning art stolen during wartime to its "rightful" owners. While this was a fascinating and thought provoking aspect to the story it left me angry most of the time. I simply could not agree with Paul and his actions. The moral aspects of his business are certainly controversial. This completely overshadowed the romantic aspects of the book for me.
Overall, this was a very well written book with a very believable story. While I didn't like some of the characters it was definitely still worth the time to read.
I definitely recommend this to historical fiction fans. The book is clearly well researched and has a very realistic feel that you will appreciate.
★★★★
☆
= Really Liked It