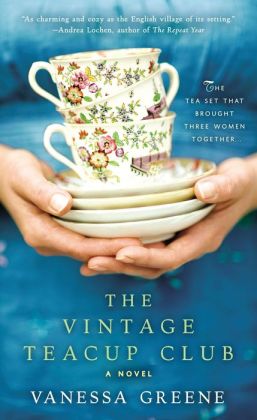 Three women's lives are about to change because of a few delicate pieces of china...

When Jenny Davis comes across a beautiful vintage tea set at an outdoor market in the English countryside, she's convinced it's fate. A young bride on a budget, she has her heart set on a vintage tea-party theme for her wedding—and the gorgeous gold-rimmed china before her is perfect. There's only one problem. Two other women have fallen in love with it, too. So they come up with a solution: They'll share it.

They establish a sisterhood, sharing the ups and downs of their lives—from broken hearts and weddings, to family drama and career dreams. When a figure from Jenny's past threatens to ruin her big day, Alison's teenage daughter pushes her to the limit, and Maggie's romantic life is thrown into turmoil, the members of the Vintage Teacup Club band together—proving their newfound friendship will last a lifetime.


---
Received for review.
I'm not normally a huge fan of Chick Lit, but the combination of a tea set and the English countryside was just too much for me to pass up.
I actually didn't particularly like or identify with any of the characters, which is really never a good sign. I just didn't really connect with any of them so my enjoyment of the book suffered a bit from that.
The idea of a group of women sharing a vintage tea set was intriguing and, frankly, more than a bit reminiscent of
The Sisterhood of the Traveling Pants
. I came to discover that that's really what it was. It was a
Sisterhood
of women at different stages of their lives and living in England. It didn't have the emotional impact of the
The Sisterhood
but it was well written enough to make it a tolerable read.
If you enjoy Chick Lit this will most likely prove to be an enjoyable read for you.
★★
★
☆☆
= Liked It