---
About the book: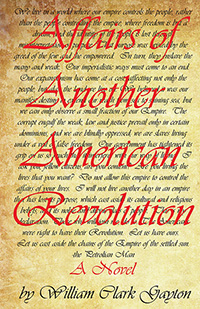 The Petrolian Man brings the British Empire to its knees, entangling a General, a Slave, and Sky-Captains, in the Affairs of Another American Revolution.

The American Revolution failed. Great Britain is in the Industrial era, and has consolidated its rule by taking to the air with its airships.

However, British influence is being thwarted by the affairs of the colonial resistance led by an ambitious general, a rivalry within the British Imperial Naval SkyFleet, slave revolts ignited by the empire's most barbaric experiment, a Sky-Captain's family, the Petrolian Man's quarrel with society, and an untimely dispute with an industrialized Asia.

An uncultured and godforsaken Imperial Society is on a downward spiral along with civilization itself.

Invasion is imminent
---
About the author:
William Clark Gayton was born in the Philippines on August 6, 1994. He is the son of William Anthony and Hildegarde Gayton. Since 1995, he was raised and is currently residing in Jacksonville, North Carolina. Other than writing his hobbies include Piano, Chess, Video Games, listening to Music, Tennis, watching movies and reading books, and hanging out with his friends. Star Wars is the most influential story to his work. He has recently graduated from Northside High School, and is currently attending college to get a Creative Writing degree.
---