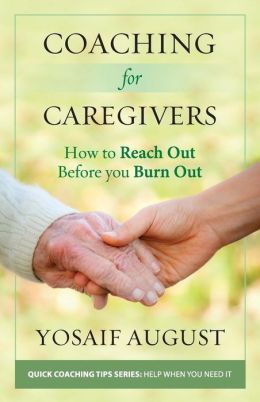 This book promotes caregivers' resiliency and helps them sustain themselves by reaching out for the love and support they and their loved ones need. It addresses the paradox of how difficult it is to help people who are stressed out and overwhelmed without, inadvertently, adding to their stress. This is especially so with caregivers who are at risk of burning out.

This lively and easy to use how-to manual coaches caregivers - family and friends who are providing care to a loved one - to reach out for help before they, themselves, get so depleted that they burn out (and, in turn, need caregivers for themselves!). It does it in a way that their reaching out does not become just another item on their to-do list.

In his introduction, Yosaif August, the author, invites caregivers to use the book as a just-in-time resource - to leaf through it, find topics that speak to them and then use it in a series of ten minute reads.

Part One of the book coaches them to take stock of what they need, what their strengths and resources are, and any beliefs they have that may be holding them back from reaching out for love and support. Part Two coaches them in finding the best ways for them to do it, including using the new caresites i.e. free websites for them to use in communicating with people who care about them. The third section provides resources for them to use to help sustain them in providing care for their loved one.

Mr. August is an award-winning healthcare innovator (inventor of Bedscapes®), life coach and keynote presenter. He was a family caregiver for his own parents and mother-in-law. In this book he draws on what he learned from those experiences, from his life coaching clients and research interviews he conducted with family caregivers who have been especially effective in reaching out for what they and their loved ones needed.

Besides the caregivers themselves, it is also a valuable resource for friends, neighbors, professional colleagues, fellow congregants and others who are concerned that these caregivers are at risk of burning out but haven't yet found a way to help them. As the author says, "friends don't let friends burn out any more than friends let friends drive drunk." With this book in hand, they can reach out to the caregiver and offer to help them use it.

This book is endorsed by a wide range of respected experts in the world of caregiving, spirituality and medicine - and by the leaders of the three major caresites (CarePages, Caring Bridge and Lotsa Helping Hands) - who also recommend its use by professionals: social workers, therapists, nurses, healthcare chaplains, physicians and others.
---
Received for review.
This is a must read for anyone who is in a caregiver position. It may seem overwhelming to even consider reading this at a time when you feel your focus needs to be 100% upon your loved one but it's a very important read.
The book helps you learn to dial down your panic and fear and help you cope and adjust to your role. It provides valuable resources for caregivers and gently helps to remind you to create a balance in your new life. This is especially helpful for those who are at the beginning of a long term caregiving journey.
The author's gentle, calm, caring demeanor really comes through in the writing and you can just feel how he wants the very best for you and your loved one.
I definitely recommend this to everyone in a caregiving role. It can provide the guidance you need during difficult times.
If you are concerned about the time investment it will take to read and how that may interfere with time spent with your loved one be assured that this is a fast read with very short chapters that take only a few minutes to read so you can read it while sitting at your loved one's bedside while they are sleeping and can put it down as soon as they awake without losing the flow.
---
*This post may contain affiliate links*