---
About the book: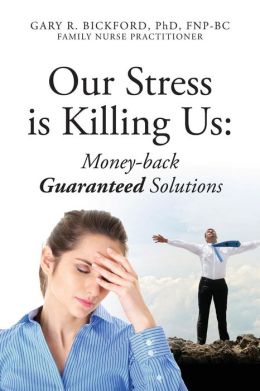 While we all go about our daily lives, we're under more stress than ever before – and that stress is killing us! Our Stress is Killing Us: Money-Back Guaranteed Solutions offers simple, common-sense ways to identify stress and mitigate the damage it can do.

Low-levels of controlled stress can actually be good for us: It helps drive us to achieve. However, low-level stress can quickly move from minor stress that encourages productivity to damaging, high-level stress that can threaten health and well-being. Many people are not aware of when they've crossed that dangerous threshold. And many, despite an abundance of research into the dangers of stress, are unaware that there are easy, money-saving solutions available to them to keep stress and its damaging effects at bay.

During his 40 years in health care, author Gary Bickford has observed first-hand the devastating toll stress can take on the body, and had developed ways to combat it. His stress-bursting techniques help improve overall health, increase energy and deal with almost every aspect of life negatively affected by stress. He's so confident his methods will work; he's backed his book with a money-back guarantee.
---
---
About the author:
| | |
| --- | --- |
| | Gary Bickford has decades of experience presenting seminars to healthcare professionals about the health damage of undue stress. As a family nurse practitioner, he has witnessed the emotional and physical damage stress causes his own patients in emergency rooms, retail clinics, and his own clinic, and his suggestions have worked for hundreds of people to increase their overall health. |
---
*This post may contain affiliate links*